A new bill has been proposed in Sindh which makes it mandatory for parents to  marry off their children once they turn 18. The bill is called the Sindh Compulsory Marriage Act, 2021. In case of failure to abide by the law, parents could face Rs500 fine for each of their unmarried children.
Syed Abdul Rasheed from the Muttahida Majlis-e-Amal submitted a draft of this bill in the secretariat of the assembly. He further added "This is an important step as it will help control societal ills, child rapes and  immoral activities." He also added that He said that there should be a complete ban on dowry and by following proper SOPs marriage should be made easier and kept simple.
Celebrities are calling out this Marriage bill as a joke.
Armeena Khan took to twitter to call out the act.
What the actual duck egg? 😳😳 pic.twitter.com/PUg7LuB4sz

— Armeena 🦋 (@ArmeenaRK) May 26, 2021

Usman Mukhtar also took to Instagram saying" This has to be a joke"


Anoushay Abbasi also took to Instagram to express her shock over the news!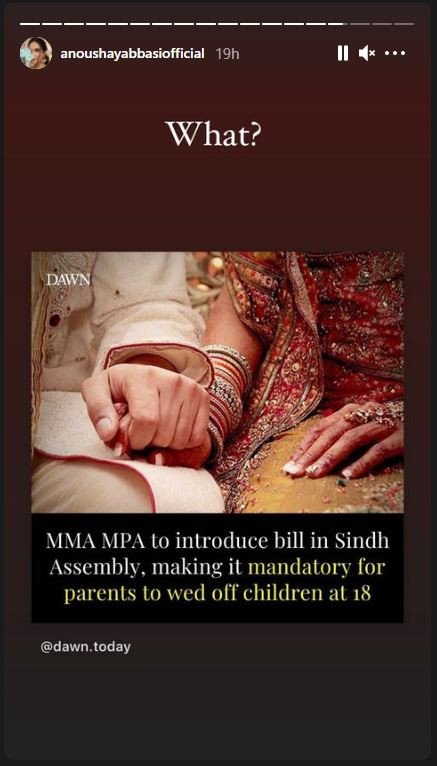 Bakhtawar Bhutto Zardari took to Twitter to clarify that the bill has nothing to do with Sindh Government but will be bulldozed by PPP.
Exactly – nothing to do with Sindh gov but will be bulldozed by #PPP #SindhGov 💪 https://t.co/sK3mvMH2FT

— Bakhtawar B-Zardari (@BakhtawarBZ) May 26, 2021

What are your thoughts on the issue? Do let us know in the comments section here.