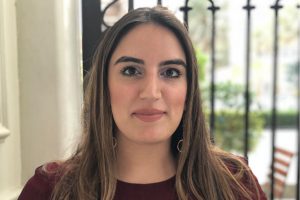 Bakhtawar Bhutto clarifies that the marriage act is proposed by JI MPA not Sindh government. She took to her official twitter account and retweeted a tweet containing the picture of the Bill which clearly shows that it has been signed by Syed Abdul Rasheed, who belongs to Jamaat-e-Islami and is a member of the Sindh Provincial Assembly.
Along with the picture of the Bill, she said, "Exactly- nothing to do with Sindh Govt but will be bulldozed by #PPP #SindhGov." This tweet from Bakhtawar Bhutto shows that PPP is also against of this Bill and this news has already created an outrage on social media.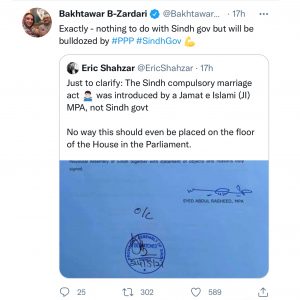 According to "The Sindh Compulsory Marriage Act, 2021″ it is mandatory for parents to wed off their children as soon as they turn 18 (as this will bring well-being in the society ) or else they will be fined if they do not have a valid reason.
Syed Abdul Rasheed further added, "This is an important step as it will help control societal ills, child rapes and  immoral activities. According to the shariat of Prophet Muhammad (PBUH) and Islamic teachings, Muslim males and females have been given the right to marry after attaining puberty or after 18 years of age and fulfilling this is the responsibility of their guardians, especially their parents."
He said that there should be a complete ban on dowry and by following proper SOPs marriage should be made easier and kept simple. The Bill has left the nation and many politicians divided with different opinions.