Celebrities are calling for a shutdown of zoos in Pakistan after a lion from Karachi zoo, whose video in a malnourished state had been making the rounds on social media, passes away due to negligence of zoo authorities.
As per Geo TV ,  the food supply to animals at the zoo had been stopped earlier this week after a zoo supplier claimed that he had not been paid since the past nine months. "The administration hasn't paid since February 2021," contractor Amjad Mehboob claimed.
Actor Yashma Gill claimed she had visited Karachi Zoo yesterday to feed the lion there. However upon inquiring she had been assured by zoo authorities that the lion alongside all the other animals was being fed properly and taken care of, and that the issue had now been resolved. Clearly, the ugly truth was kept away from her.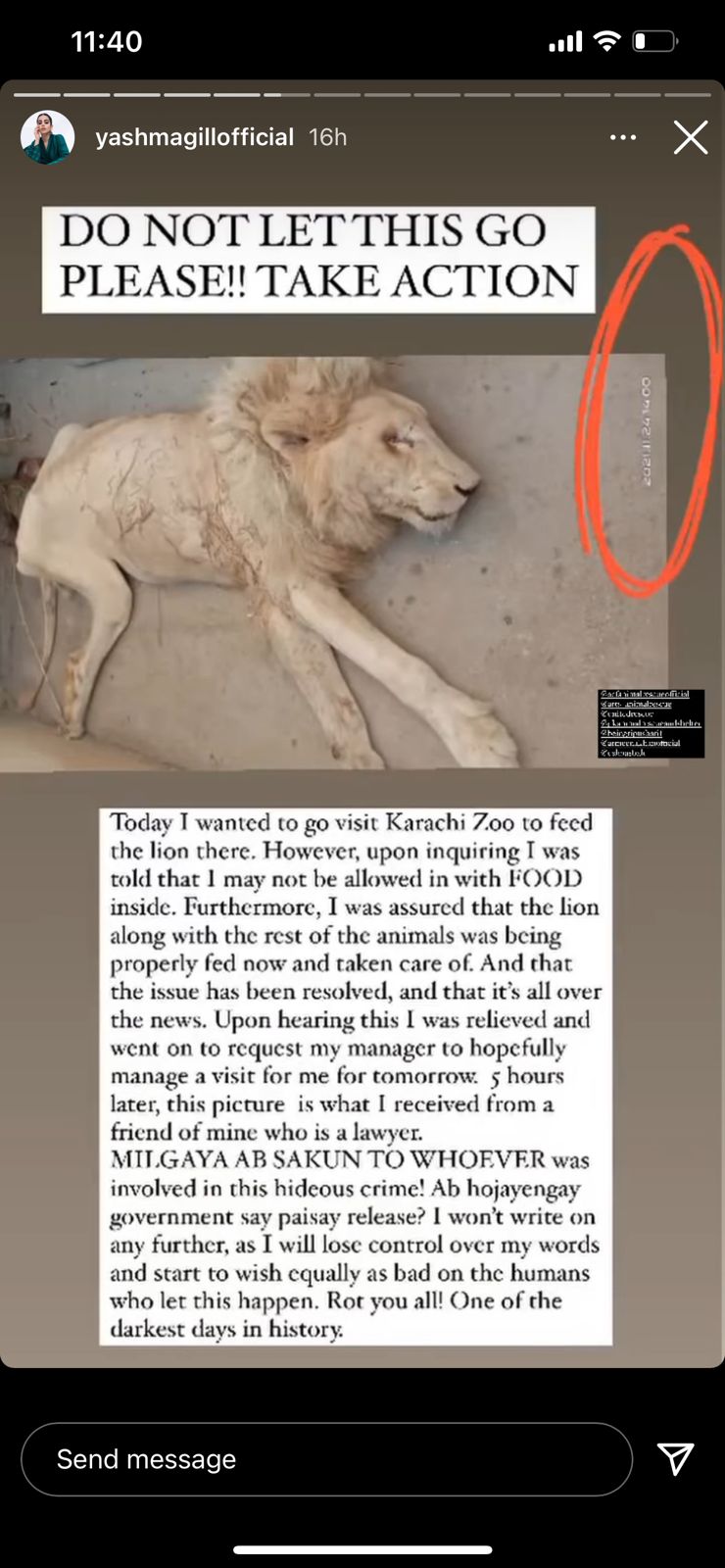 In a criminal act of negligence, only yesterday the Karachi Metropolitan Corporation (KMC) had earlier issued a notice denying all claims on social media and declaring that all animals at the zoo were healthy and being provided proper feed. Talking to Dawn KMC spokesperson Ali Hasan Sajid had "termed the reports circulating on social media baseless and said that some miscreants were spreading propaganda about the Karachi Zoo. He also called the images being shared on social media 'outdated'", assuring the public that the issue had been resolved.
کراچی چڑیا گھر میں جانوروں کی خوراک سے متعلق سوشل میڈیا پر چلائی جانے والی خبریں اور تصاویر حقائق کے منافی ہیں۔ ترجمان بلدیہ عظمیٰ کراچی

ایڈمنسٹریٹر کراچی بیرسٹر مرتضی وہاب کی ہدایت پر بلدیہ عظمیٰ کراچی کے افسران پر خصوصی ٹیم نے کراچی چڑیا گھر کا جائزہ لیا@murtazawahab1 pic.twitter.com/BJ6HT8ltMm

— Karachi Metropolitan Corporation (@KmcPakistan) November 23, 2021
With images of the lion passing away, despite all false claims of KMC, actor Ushna Shah also posted online to call for a shutdown of zoos in Pakistan- saying the country where animal abuse is common, and people are insensitive about animals' rights, is not "morally equipped to run zoos."
Sadly, my country, 🇵🇰 where the majority of pet dogs are kept chained, birds caged, domestic animals beaten, animals meant for sustenance kept in abhorrent conditions, stray dogs tortured, where many, (often unknowingly) practice animal abuse is not morally equipped to run zoos.

— Ushna Shah (@ushnashah) November 25, 2021
Ayesha Omer also expressed her mortification at the negligence of authorities and the atrocities committed as a result of 'lack of funds.'
Mortified to find out how animals are being kept in the #KarachiZoo, apparently because of lack of funds. And this African lion died today. They say it's tuberculosis. He was being kept in the same enclosure as the Lioness with such a contagious disease. pic.twitter.com/GSwthV8Zly

— Ayesha Omar (@ayesha_m_omar) November 24, 2021
Armeena Khan also took to her Instagram to call out the authorities responsible for this outrageous act.