Navigating through the concrete halls of the massive Nishat hotel , I ended up in a room decorated with faux grass green carpets , the floor sparkling in ways reminiscent of a fresh spell of dew , with leaves and crawlers at the back, making way for a perfect entrance.
Instantly I thought that this was PFDC's way of subtlety sounding the alarm – that maybe 10 or 20 years down the lane we'll be invited to see left over greens – carefully curated in a concrete room and while the thought of that haunted me for the next couple of minutes I was instantly snapped out of it by the sounds of Dholak.
Rehmat Ajmal and Sophie opened the 9th PFDC LOREAL BRIDAL FASHION WEEK in Hussain rehar.  taking a slight pause and then gradually walking towards the end of the ramp – giggling , whispering secrets , twirling and then running back – the models and real life friends wore looks comprising of choli and lehngas in imperial red and cannery yellow.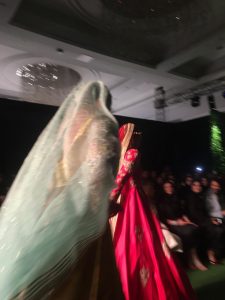 The collection "Fateh-pur" was an embodiment of Hussain's idea of Punjab. Wrapped in beautiful silks , embellished with  precision and decorated with aabla (sheesha/mirror work) the textiles justified Rehar's love for chic drama , expression of culture and individuality by empowering the women around him.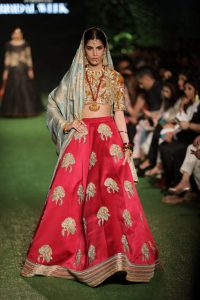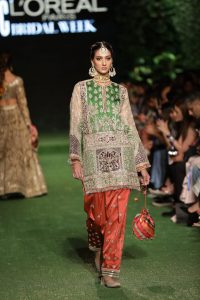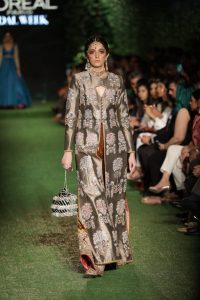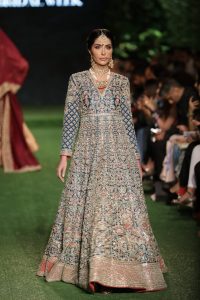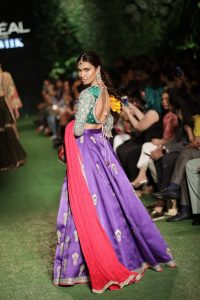 The collection unfolded with beats of dholak and Punjabi tapas and while the music transitioned into a mix of desi-electronic – the color palette also shifted from traditional reds and yellows to brighter, much younger purples , greens and pinks. The lehngas and cholis morphed into front open jackets, the hems of tops shortened and embellishments uncoiled with much playful motifs.
The procession came to an end when super model Iffat Umer strutted down the runway like an imperial queen, adorning a crimson red jacket and an earthy green lehnga.
To get an insight on the rest of the shows, read here