Share this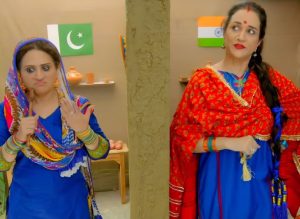 In a latest video, sisters Bushra Ansari and Asma Abbas play the roles of Indo-Pak neighbours exchanging melodious words of peace. The video has been directed by Iqbal Hussain, featuring poetry written by Bushra's eldest sister Neelum Ahmad Bashir.
The video shows the duo singing a 'punjabi tappa' song called 'Humsaye Maa Jaye' from their kitchens divided by a wall. Bushra Ansari acts as the Indian neighbor while her sister Asma Abbas plays the role of the Pakistani neighbor who together shed light on the war-mongering sentiments present in India and Pakistan against the will of their citizens who  want peace and harmony instead. The video also sheds light on the subject of the political games played by the leaders of the countries for power and authority.
Indo-Pak tensions escalated in February earlier this year after the Pulwama attack which took place in India.
Share this