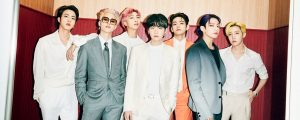 Pakistani ARMY ( BTS' fan following in Pakistan) can't get enough of their new English single 'Butter'. Fans have been anxiously waiting for the song once the teaser released and the song completely lived up to their expectations. The members also debuted with their new individual styles which added all the more fuel to the fire!
In a press release, the group described 'Butter' as "a dance pop track brimming with the smooth yet charismatic charm of BTS."
'Butter' is their second English song after 'Dynamite' which also earned the group a Grammy nomination. Now bets are on Butter to see if the song can get them the accolade.
The song is currently no.24 on trending on YouTube and has earned millions of views in the first few hours after the release. Twitter was flooded with hashtags related to the song and evidently Pakistani ARMY was swooning.
Scroll down to see ARMY flood Twitter after the release of the song!
#ButterMV of @BTS_twt is #Trending #5 on #Youtube #tiktokers in #Pakistan 🇵🇰#ButterToday#BTS#BTSARMY pic.twitter.com/73t4jmQqzK

— ARMY'⟬⟭ (@A_m_n_a_1303) May 21, 2021
'Butter' Official MV by .@BTS_twt becomes the fastest MV in YouTube history to hit 4 million likes (in just 3 hours & 41 minutes), breaking Dynamite's record of 3 hours & 52 minutes.#BTS #BTS_Butter #ButterToday

— BTS Pakistan Projects Official⁷ 🇵🇰🧈 (@bts_pk_projects) May 21, 2021
Pakistan twt trends screaming BTS and Butter, thats the energy Pakistan should give#ButterToday #GetItLetItRoll pic.twitter.com/hgMI1WOSZg

— aDan⁷ 🧈 (@_BANGTAN_Bish) May 21, 2021
Army💜😭💖
The song is amazing ❤️👏🏻👏🏻🕺✨#BTS_Butter #bts #BTSARMY #ButterToday @bts_bighit @BTS_twt @bts_pk_galaxy @bts_pk_projects pic.twitter.com/c2S7OIfZCU

— K-World Pakistan (@kworldpk1) May 21, 2021
Bts new mv #butter is trending no 24 on YouTube music in pakistan 🇵🇰💜😆#SmoothLikeButter #ButterToday #GETITLETITROLL #BTSBackWithButter #ButterIsComing #bts #BTSARMY #Trending @BTS_twt pic.twitter.com/wB646kMtZq

— 💜MISS V7️⃣⟭⟬ ⟬⟭ 🇵🇰💜#buttertoday (@MISS_V_TAESA) May 21, 2021
The hashyags #ButterToday #GetItLetItRoll are trending in Pakistan pic.twitter.com/Muugdzmmim

— aDan⁷ 🧈 (@_BANGTAN_Bish) May 21, 2021
Speechless right now 🤐🤐🤐it's is soooooooo amazing and fantastic I'm in love woah 😎😎😎
Army go and stream Butter#ButterToday#SmoothLikeButter#GETITLETITROLL#BTS_Butterhttps://t.co/hFS6C4Ez8U)

— BTS Pakistan Army 🇵🇰🇵🇰💜💜💜 (@MianAsh62845946) May 21, 2021
Pakistan armys let's bring it to no. 1, keep streaming.#BTS_Butter #ButterToday #BTS #BTSARMY pic.twitter.com/MNtFeBujf3

— Our flight is forever⁷ (@kookieftzayn) May 21, 2021
[Twitter Pakistan 🇵🇰 trends update]

1. #BTSBackWithButter
2. #GetItLetItRoll
4. #SmoothLikeBTS

Armys keep going 🎉#ButterToday pic.twitter.com/q4YuJEha8R

— BTS Pak Streaming ⟭⟬⁷|🇵🇰💛🧈 (@btspkstreaming) May 21, 2021
I told y'all we won't survive this comeback 🧍‍♀️#ButterToday

I'm voting for @BTS_twt for #BBMAsTopSocial #JIMIN #ParkJimin #지민 ジミン #방탄소년단지민 #방탄소년단 #BTS @BTS_twt pic.twitter.com/OheMksQ6Xp

— Jimin Pakistan⁷🇵🇰🇵🇸¹³🧈 (@Jimin_Pakistan) May 21, 2021
#ButterToday #BTS_Butter #GetItLetItRoll #BTSBackWithButter #BTS #BUTTER pic.twitter.com/856QUpHsvE

— jungkook pakistan (@junguk_pakistan) May 21, 2021

BTS continues with its world domination with the release of their new single and fans cant take it all in.
BTS will be performing their TV debut for 'Butter' at the 2021 Billboard Music Awards. The awards, hosted by Nick Jonas, will be held on Sunday, May 23.