It's no surprise that Hania Amir is an Instagram favorite. She's effortlessly funny and its always a delight to see whether on our smartphones or the big screens. Looks like we aren't her only fans. Yesterday, the actress posted a fun video where she implied that her 'lewk' was similar to how Emily dresses in Emily in Paris. She and her friend seemed to have a fun time as they spilled some foreign words they knew. They may have been trying to look for a French word but they went 'Por Favor' a Spanish word with the Italian hand movement, we're not blaming them, it's just harmless fun time and we love it.
However, what's interesting is how Aditya Prateek Singh Sisodia known by his stage name Baadshah or Bad Boy Shah, the celebrated Bollywood rapper known for his groovy tracks and expensive taste also commented 'Por Favor' on the post.
Later in his live Bad Boy Shah answered his fans questions on his friendship with the 'Mere Humsafar' star. To which he replied that he does follow her and described her a s a 'mood up-lifter; as well as a 'bright human being'.
View this post on Instagram

Hania later re-posted his on live her stories and said "Aap bhee bohat mast hou" as a response to his appreciation.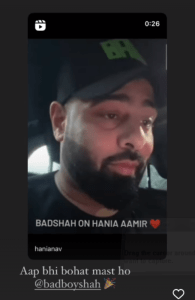 Looks like we this just found some Insta pals who appreciate each other's positive vibe. Love that!