BAAJI FILM REVIEW: A Dramatic Ode To Lollywood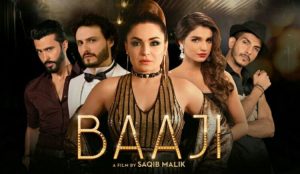 Image Credits: Baaji the film/ Instagram
To start off about Baaji, I'd say that it's a decent attempt at portraying what goes on behind the scenes in the Pakistani Film Industry 'aka' Lollywood. Baaji directed by Saqib Malik is melodramatic entertainment at its best for me. Ranging from veteran actress Meera Jee to singer/actor Mohsin Abbas Haider, everyone seemed fit for what was expected from them. Moreover something unusual that I liked about the film were the cameo appearances namely by Humayun Saeed, Zebunnisa Bangash, Frieha Altaf and hairstylist Tariq Amin.
A brief  summary about the story of the film. The film revolves around the life of a fading star 'Shameera' played by Meera Jee who yearns to make a comeback and meets her assistant Neha played by Amna Ilyas and Hollywood director Rohail Khan played by Osman Khalid Butt, during that time period. Baaji is also about the different kinds of people you meet in Lollywood and what goes on between them behind the scenes. It does take inspiration from Meera Jee's real life as well, for example the video clip that released, it's there in the film as well.
The cinematography of film is beautifully done. The backdrop of my favourite city Lahore looked stunning on screen. As far as the performances are concerned even though I applaud Meera Jee for giving the role her best, It showed that she tried, but at times it felt as if she was trying too hard. Meera Jee's performance came out as melodramatic at times, considering the level of competitive content out there thanks to online streaming sites such as Netflix and Amazon Prime, Meera Jee has to tone it down a little bit to ensure realism and relevance. Moreover the best performance of the film for me was by Amna Ilyas who was subtle yet brilliant as Neha. Osman Khalid Butt and Mohsin Abbas Haider were also good in their respective roles. Hats off to veteran Nayyar Ejaz for playing a homosexual casting director, this role required a lot of guts and he seemed confident and comfortable while playing it, so well done.
Something that really disappointed me was the writing at times. Especially the last 15 to 20 minutes of the film. The last half of the film felt out of place and felt like it was a part of an entirely different film.
To sum it up, I had really high expectations from Baaji and it delivered in some parts, the soundtrack, cinematography and some of the performances were really good. But it did feel a bit outdated for today's day and age at times, for example the film had a 90's Bollywood inspired scene on the mountains, with Meera Jee's saari flying and the hero dancing with her to a romantic song. Great effort, but could have been better and closer to reality!
My Rating: 3.5 stars /5