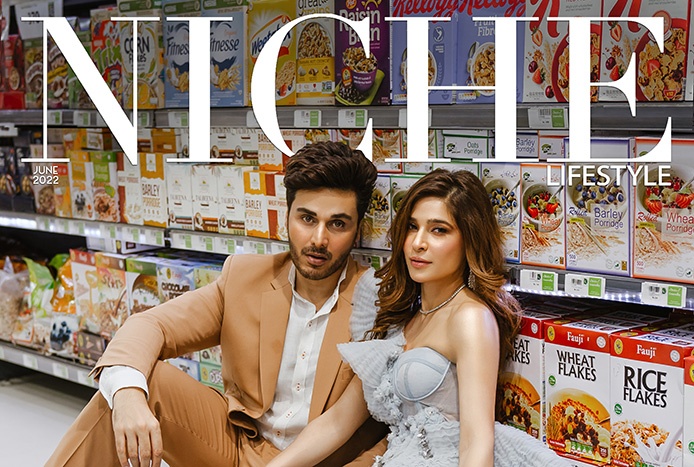 Where COVID brought about a complete change to our daily routines, it also came as a huge setback for local cinema. Now, with life thankfully returning to normal, theatres are once again booming with local cinematic releases. One of the top contenders amidst all local releases happens to be 'Rehbra', which had been scheduled to release in 2020, was postponed due to the pandemic.
As the movie hits the theatres this year, we managed to get a hold of the stellar cast of 'Rehbra' starring industry's sweetheart Ayesha Omar and the versatile Ahsan Khan, as they talk competition with international films, dealing with social media bullying & standing up for the causes they believe in.
 Ayesha Omar & Ahsan Khan On Cinema
Talking about the recent debate that has picked up pace- regarding Hollywood taking over local cinemas, and local films not being given enough run time in cinema halls, we asked the power duo about their take on the importance of home-grown cinema for audience consumption.
Ayesha said "Of course, home grown cinema is extremely important. Creatively, it allows for growth in our industry as audiences bring feedback to film makers and producers, allowing them to improve their techniques and content. Moreover, if local audiences watch home-grown cinema and its turnout is good, only then cinema halls will be able to remain open! I do not think foreign cinema should be eliminated – healthy competition is important and it is also inspirational to watch cinema of different countries. I believe, there needs to be a balance. Majority of shows should be given to home-grown cinema and a certain number should be reserved for foreign content. However, many cinema owners also argue that halls are mainly full due to foreign films and that is where we earn our major income. So, this debate is quite critical right now."
Ahsan Khan: In addition to Hollywood, Irani, French and Turkish cinema are all great and I'm of the opinion that all foreign content should be aired, but their time slots should be reduced. Foreign films should be given 20% of the time and the rest should be given to local films.  Presently, we have such few cinemas and are films are so low budget that it's unfair to compare our releases with foreign film with much bigger budgets.
Ayesha Omar & Ahsan Khan on Activism
Ayesha and Ahsan have both been very vocal on issues that are close to their heart. So, we also asked them how they manage to align personal beliefs with work in an industry which is heavily centered around commercial appeal.
A: Yes, this is an industry which is very much based around being politically correct, not ruffling any feathers, and not getting any kind of negative attention on you. But, at the end of the day we too are living our lives and we have to answer to our selves, and to our Creator. So, you have to figure out where to draw the boundaries. There are things where you can't keep pretending. Healing has to start somewhere, we can't suppress ourselves and not acknowledge the way we feel.
Revealing a very thinking and insightful side of his personality, Ahsan Khan, who we are used to seeing joking around on TV mainly and rarely known for his work around the issue of children's rights and child protection, shared that the turning point for him was his role in the drama 'Udaari' in which he played a child abuser. "After 'Udaari', I looked into the issue much more deeply: read, heard and thought about victims, which is why the issue is very close to my heart."
Ayesha Omar on social media & trolls
Ayesha, who is often subjected to undue moral policing on social media also shared how she deals with entitled men and trolls. Calling the social media a 'jungle', she said "our society does not give much importance to expressing love, verbal love for people, things etc. so people mainly only know how to express themselves through hate only. But do not let their negative energy affect your vibrations. You should keep your own place, and I believe when you respond to something with patience and love, you are able to convert energies."
Ayesha Omar & Ahsan Khan on 'Rebhra'
Talking about what makes 'Rehbra' a true desi flick, Ahsan shared that "the film is a blend of new cinema and our very typical Pakistani films, so it's very well-made stuff. The characters all are very desi and strong. And the film very sharply represents a very local, Pakistani flavour with appealing music and visuals- and 95% of locations being outdoors ranging from train stations, Gwadar, Shalamar Gardens, Kasur villages, beaches and South Punjabi culture."
Ayesha says "it's a full-fledge feature film with masala and dances and all kinds of emotions and it comes across as a film which might not have messages- but it does! One of the most important ones being the importance of children's consent in marriages." Another, very important factor in her opinion for the film's appeal is her own character Bubbly- a typical Punjabi girl. Moreover, she said the film depicts characters from different provinces of the country representing different cultures, mindsets and lifestyle.