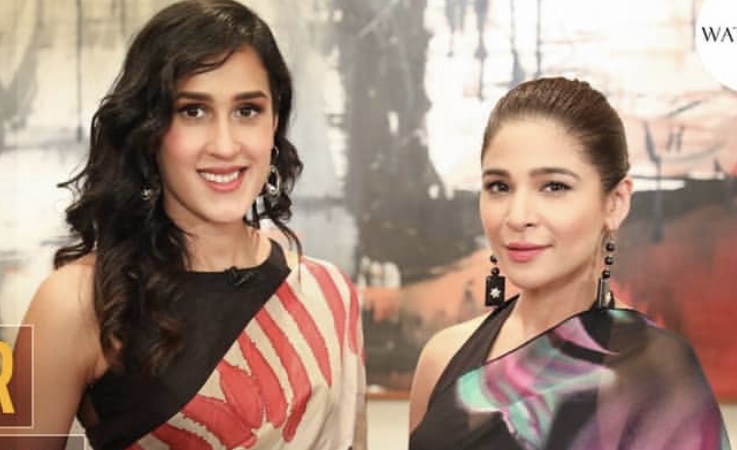 TV star Mira Sethi is back with a second part of the candid conversation with Ayesha Omar in an all new episode of Hello! Mira Sethi. To our delight, the duo's earlier conversation on what it means for women to be bold in Pakistan, did not just end there and viewers get to see a Part 2 of the interview.
The two divas open up about their idea of who an "acha larka" is, and what the term means to them, as Sethi explains "For me: somebody who's kind, who's open, not controlling" and is good-hearted. In response, Ayesha Omar also spills her preferences in a man saying "someone who is respectful, not just to women but all living beings; men, women, transgenders and animals", and "should not feel insecure in his existence". She also adds that the percentage of good men in our society is low.
Host Sethi also questions the 
Karachi Se Lahore
actress about the reason why so many women in the media industry shy away from using the term 'feminists' to describe themselves. To this, Omar responds by describing that the term 'feminist' has been 'misconstrued', and twisted because society feels "threatened by women having equal opportunities as men". She also expressed hurt about the term "angry feminists" being thrown around casually with people failing to look at the history behind that anger, and understanding that if a particular gender is being suppressed since early childhood, and has been growing up in fear, then "like an animal that has been treated badly, they will be traumatized."
Talking about the
#Metoo movement
, Omar stated that if public figures openly talk about their personal experiences, it is bound to "affect their work". She says, that is the reason why many celebrities, women and men, prefer not to share their stories, as they feel like the "narrative" and the "image" that has been created around them is going to be affected, and because of that the work they get will also get affected. Both confessed that they still have a lot to share with the public, and will at some point in the future, come out with a lot that they have to say!
With their bravery, honesty and openness the two bold beauties have stolen our heart. Scroll down to watch the interview for yourself.