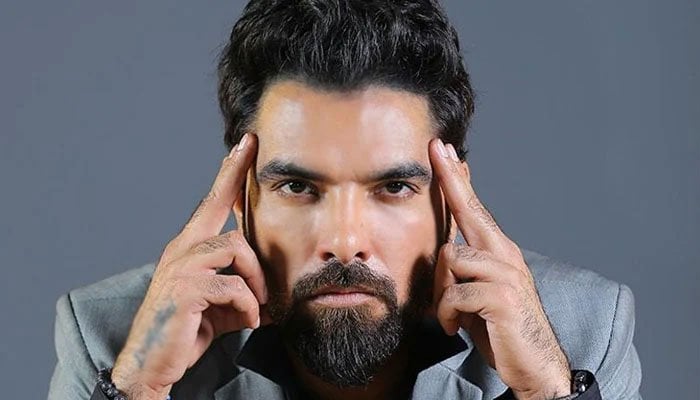 Yasir Hussain recently put up a story on his Instagram featuring two Pakistanis who resemble two lead character of the much loved Turkish series, Ertugrul. The post was captioned as 'Pakistani Turgut and Pakistani Ertuğrul.' However, Yasir's comment on the post quickly caught fire and landed him in hot waters.
He wrote, "No one will pay heed to them.he wrote. Because home-cooked chicken is equivalent to lentils while international garbage is still worth cashing on."
The comment was quickly picked up by local social media platforms, under which Anoushey Ashraf responded to the Jhooti actor leading to a response from Yasir himself!
Here's what went down:
https://www.instagram.com/p/CEwTfpllJ2r/?igshid=15mifjvvqtmk4
Anoushey started by 'gently reminding Yasir' that no one is 'Kachra', and continued to express her views. While Yasir responded by saying that everything he says should not be linked to 'Ertugrul'.
Social media quickly became abuzz after the two actors conversed with one another and put forth their respective  opinions.
Here's what people on Twitter had to say: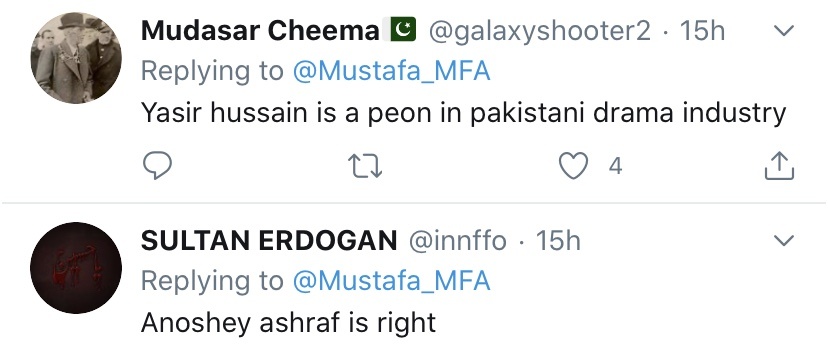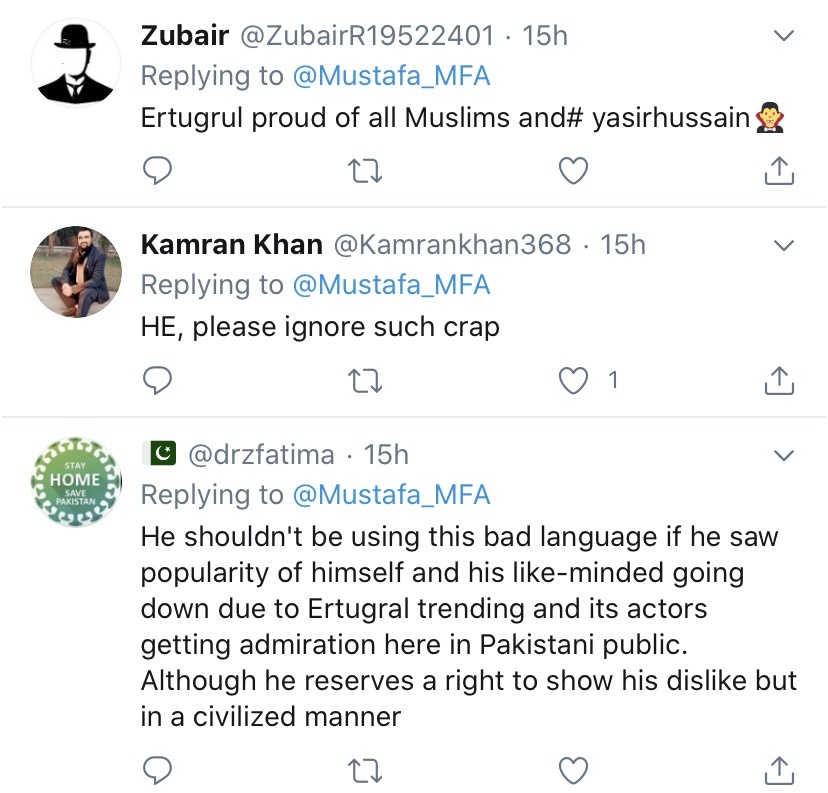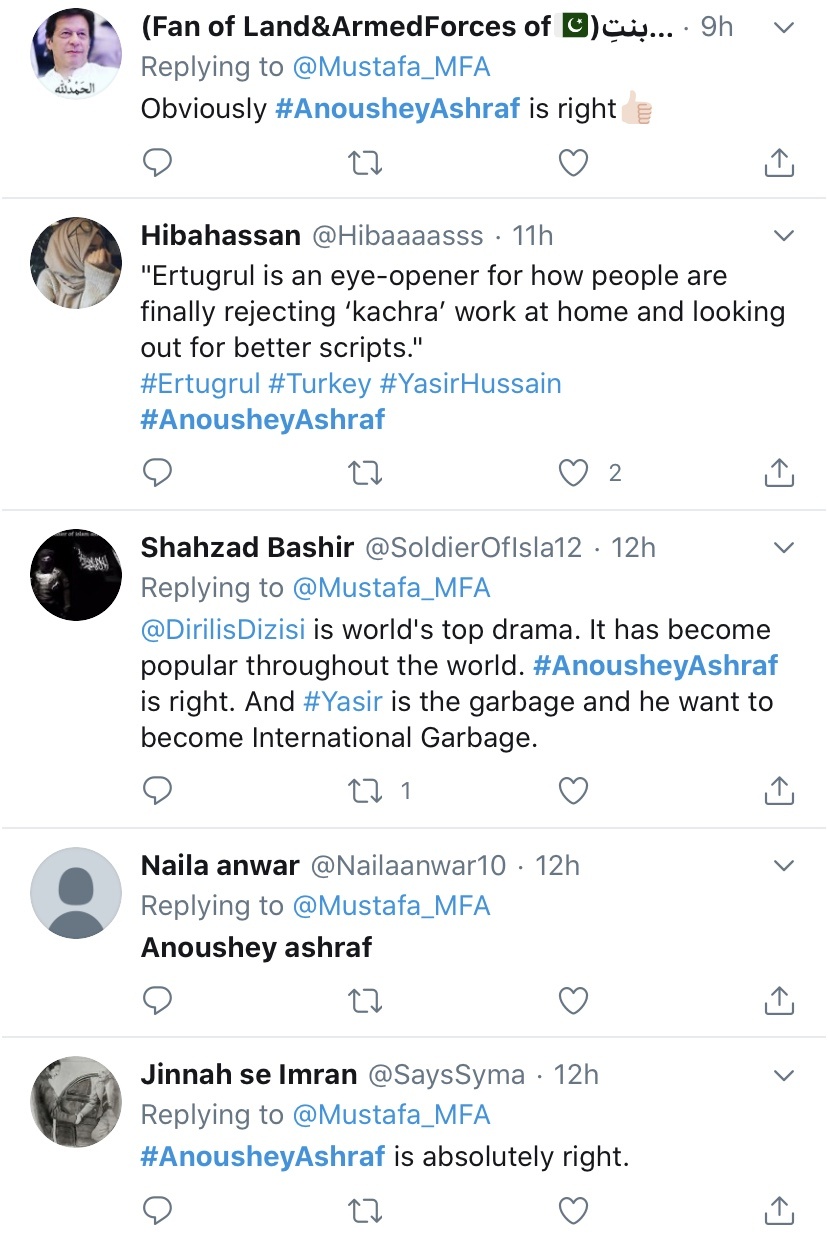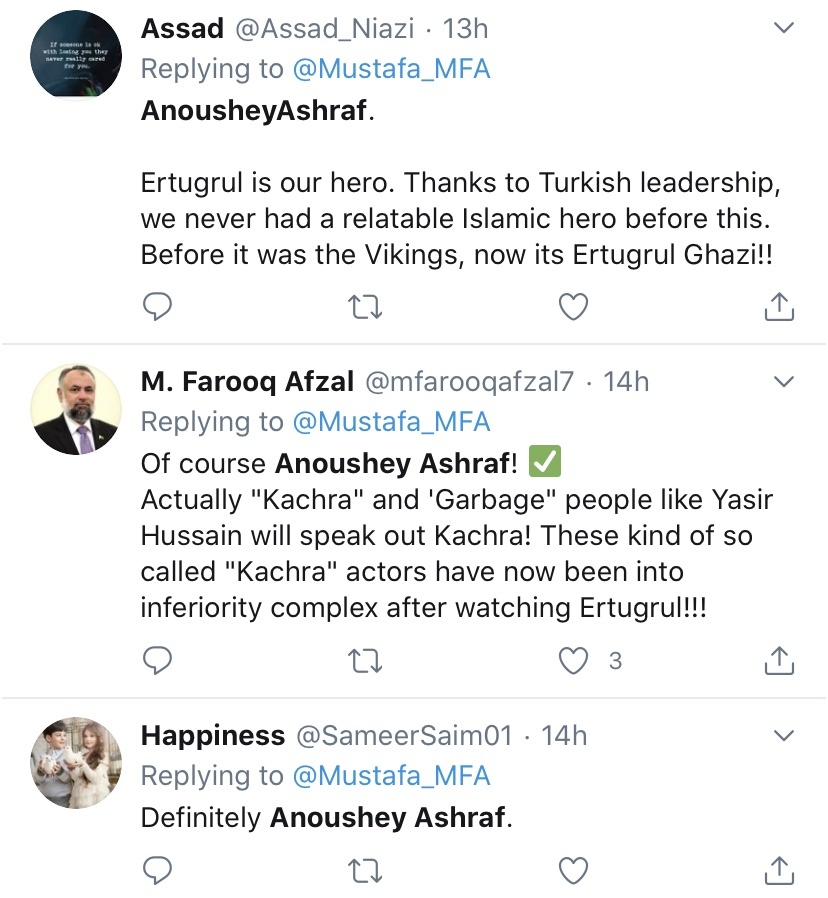 Yasir Hussain quickly began to trend on Twitter and meme gods decided to use the opportunity to their advantage leaving social media users in fits!
Ertugrul fans aren't coming slow on yasir😂😂#YasirHussainIsTheRealGarbage pic.twitter.com/UMYwiz4rex

— Sana shine (@sana_foodie) September 6, 2020
https://twitter.com/aiakrr/status/1302708632988135424
ertugrul team reaction after watching#YasirHussainIsTheRealGarbage twitter trand pic.twitter.com/l7yVtPno74

— Rizwan Khan (@rixwankhan0609) September 6, 2020
A person having a dignified role vs 😂😂😂 #YasirHussainIsTheRealGarbage pic.twitter.com/tK7E3M2kfJ

— Amna Khan (@AmnaKhan06) September 6, 2020
Yasir Hussain sara din social media par zaleel hony k bad…#YasirHussainIsTheRealGarbage pic.twitter.com/od5WE4bRhQ

— Zeeshan Ali Shah (@Zeeshan44943442) September 6, 2020
#YasirHussainIsTheRealGarbage
Just click a random of real Garbage pic.twitter.com/XPdJJ4Lgyx

— Zb Roaster (@RoasterZb) September 6, 2020
After success of Ertugrul in Pakistan.

Ertugrul fans to Yasir Hussain:#YasirHussainIsTheRealGarbage pic.twitter.com/1NIxKvIZGA

— Ijlal Haider (@IjlalHa50953458) September 7, 2020
*People Making memes on Fasadii Phuppo*

Meanwhile Yasir Hussain: pic.twitter.com/7FUAJBvHSw

— isra. (@hawyysachiiii) August 6, 2020
What are your thoughts on this? Let us know by dropping a comment on our Instagram page.
Until next time!