Fashion has the amazing ability to defy time and express visions without using words. It has the power to inspire others, boost their self-esteem, and highlight their inner beauty. These ideas have been brilliantly captured by visionary fashion designer Mariyam D. Rizwan in her most recent collection, "Amelia." The designs in this collection by Mariyam are a celebration of femininity, individuality, and fine craftsmanship with the ideal balance of classic elegance and contemporary refinement. Each piece in this collection is painstakingly made, displaying Mariyam's attention to detail and her capacity to produce designs that appeal to classy women. "Amelia" emanates a subtle sophistication that captivates the senses, with a monochrome palette that expertly combines black and white.
Aesthetics That Stand Out:
It takes a true artist to produce designs that stand the test of time and leave a lasting impression in the ever-evolving world of fashion, where trends come and go. Rizwan has often shown that her creations are not only clothes but rather works of art that exalt femininity, allure, and splendor.
She has a great fusion of eastern and western design features. Her experience working with International names like Alexander McQueen, Ted Baker, and H&M has contributed to the development of her unique perspective on fashion design. Mariyam's skill in creating designs makes her designs adored all over the world. It is her extraordinary creativity that she has been able to produce designs that are appealing to women from all walks of life by mixing traditional workmanship with contemporary aesthetics.
Mariyam D. Rizwan's designs are characterized by their simplicity, which allows the wearer to express themselves without coming off as too much. All of her creations radiate elegance and sophistication. She lovingly crafts elaborate elements into her designs, including hand-embroidered necklines, glittering sequins, mirror work, and delicate scallops, all of which add to the beauty of the clothing. Each design is given a touch of ethereal appeal by Mariyam's use of lightweight fabrics and the perfect embellishments.
Amelia: A Monochrome Love Affair:
 Mariyam displays her intuitive sense of style in her most recent collection, "Amelia," and she successfully captures the elegance of simplicity. Here are a few of our most favorite pieces from the collection. Mariyam D. Rizwan's basic layout rule is to create clothing that flatters all body types and gives women confidence. This idea is upheld by the "Amelia Luxury Pret" line, which provides silhouettes that suit a variety of figures. Each design, from the flowing kaftan cuts to the pleated kurtas with a loose fit and the ever-elegant kalidars, has been carefully created to honor the individuality of each woman who wears it. Here are some of our preferred picks from Amelia, her latest luxury prêt line.
Oh-so-Stunning Soha: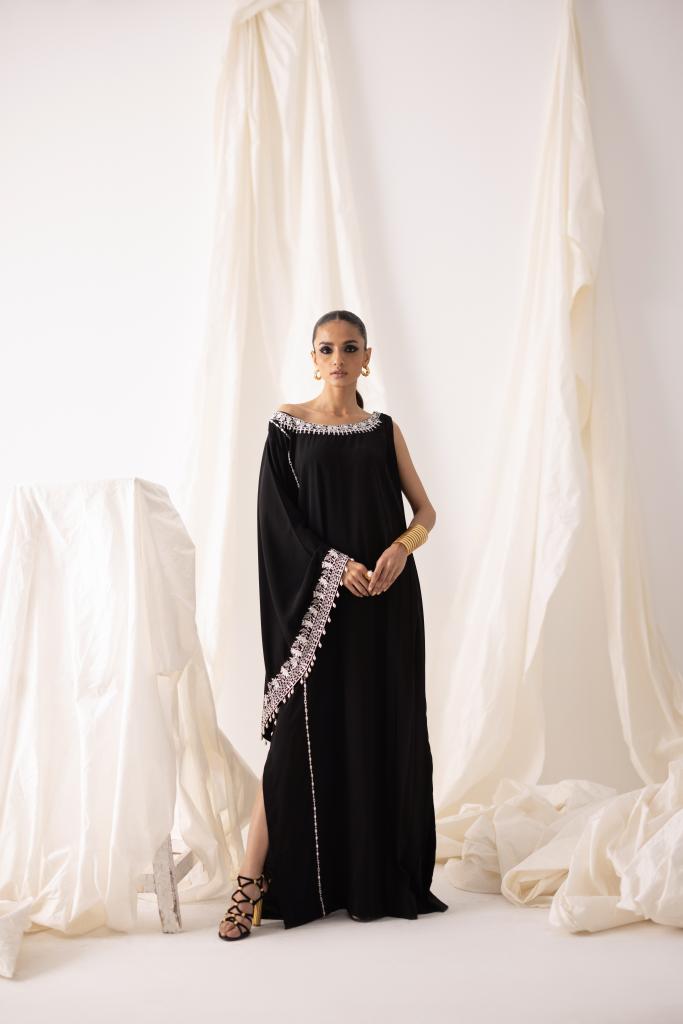 "Soha" is the perfect choice for anyone looking for an ultra-chic and effortlessly trendy look. This elegant kaftan has a flattering silhouette and is made from the finest georgette. It is also comfy and stylish. The luxurious black base is embellished with modern yet classic mirror work embroidery and exquisitely ornamented with pearl hangings. The draping cut and tiny side slits give the floor-length design a touch of modernity while the drop shoulder and intricate embroidery border are incredibly appealing. "Soha" is the perfect outfit for any festive season when worn with sky-high stilettos and stunning jewelry.
Graceful In Grace: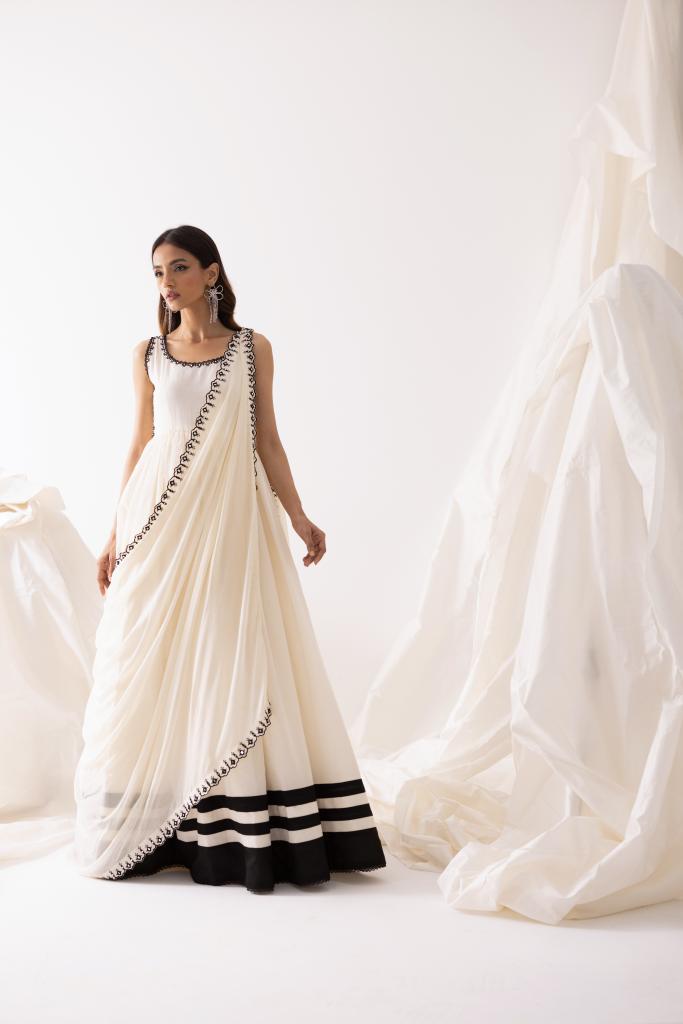 Grace is one of those pieces that have all the makings of a show-stopping dress. The modern sari-pishwas is expertly tailored and intricately embellished with mirror work and embroidery, giving it an air of elegance. The gorgeous back neckline's eye-catching tassel embellishment adds perfection to the entire look. The pre-draped dupatta, which is embellished with delicately blooming floral embroidery and mirror work for an ethereal and mesmerizing look, is the pièce de résistance. To steal the spotlight at any event, wear "Grace" with voluminous beach waves, elegant jewelry, and stiletto heels.
Raya-vishing: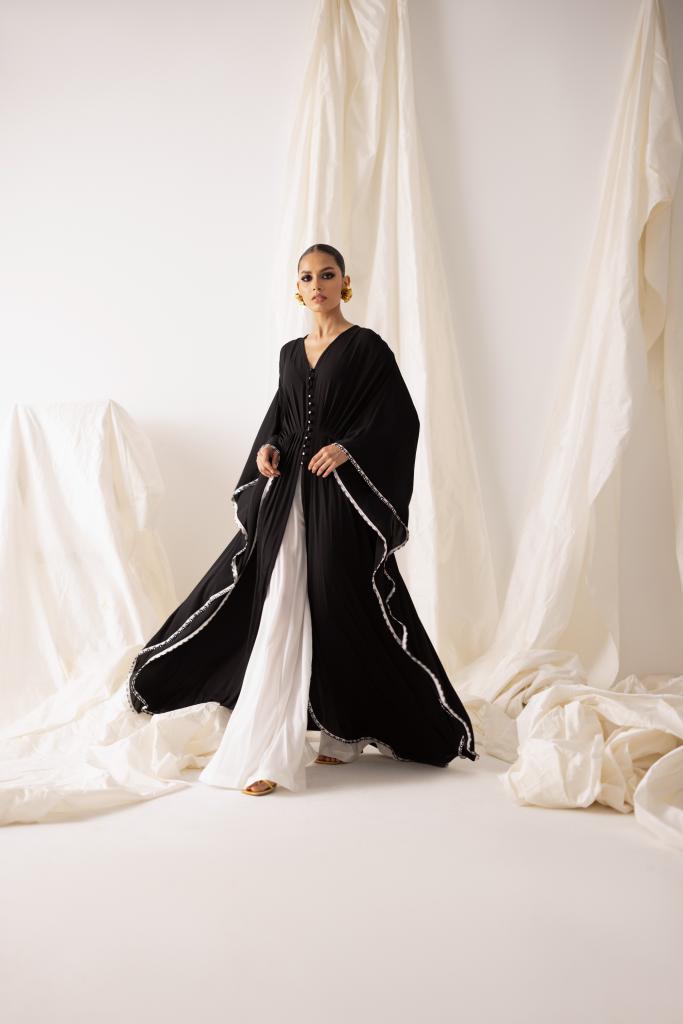 "Raya" is one such outfit that has the power to turn heads and make hearts skip a beat. This two-piece outfit is made with lush georgette with a loose-fit front-open design. The standout piece has excellent mirror work embroidery around the edges and buttons that provide a bit of glitz to the ensemble. A pair of wide-legged pleated trousers that add class and sophistication completes the appearance.
Amelia, by Mariyam D. Rizwan is proof of her limitless talent, vision, and unrelenting dedication to producing pieces that stand the test of time and speak to the soul. She creates clothes that are both intriguing and empowering by fusing tradition with trendy. This collection is a remarkable piece of art because of the monochromatic aesthetic, precise craftsmanship, and great attention to detail.