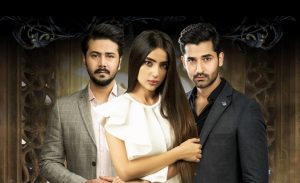 Directed by Asad Iqbal and written by Nuzhat Saman, drama serial Fitrat is currently on air and has the audiences attention. Fitrat features Saboor Aly in the main lead role as Fariya. Fariya belongs to a middle class family who dreams of a life of comfort and luxury. In a quest to fulfil her dreams, she begins to look for shortcuts and gets involved with a boy from an elite class family named Shahbaz (played by Ali Abbas). The story then takes on the theme of greed and deceit and further begins to unfold into a series of consequences.
The rest of the cast of Fitrat includes Mirza Zain Baig, Zubab Rana, Sabiha Hashmi, Seemi Pasha, Saife Hassan, Fazila Qazi, Farhan Ali Agha, Adla Khan, Aisha Gul, Kamran Jilani, Mariyam Nafees, Zain Afzal and Raeed Muhammad Alam.
Here's how the audience is reacting to the drama serial:
Saboor's a pretty good actor, the only problem has been her choice of characters. Visaal and Fitrat are the ones where she's done pretty well

— Tujhbinnahilagda (@splendeurr) December 18, 2020
One of the best drama nowadays worth watching no scene is boring every scene captured audience attention amazing performance by all characters and saboor is too good in the character such an marvelous performance #fitrat

— Bushraatif (@Bushraatif6) November 21, 2020
https://twitter.com/myheartspilled2/status/1340652379130245125?s=20
Must watch " Fitrat " drama specially gold diggers.

— ہانی-🥀 (@HayeeMuffin) December 17, 2020
So this drama fitrat.. the good girls have dupattay posted on their heads. Why?

— Blundo ⭕ (@BlunderWoman_) December 17, 2020
Im going to say #Fitrat is much more cosmopolitan drama & defies the usual expectations

— Sadaf Haider صدف حیدر (@tomtomatoe) December 17, 2020
While many are enjoying Fitrat, some have also called the drama serial out for promoting an immoral storyline as main character Fariya is shown having connections with two real brothers.
Are you also following Saboor Aly's Fitrat? If yes then let us know what your opinion is on the drama serial by dropping a comment on our Instagram page.