Yasir Hussain used his Instagram platform to speak out against the horrific incident that took place yesterday at DHA Karachi  where a security guard opened fire at the production staff on a drama set.
Yasir Hussain had also written a lengthy post on his Instagram posts to explain the harsh conditions on set where production staff members are made to work, and also urged for authority figures to ensure that these people were properly compensated for the hard work they do:
"The guard on the set did not open fire on actors or producers. But only on the innocent people who only make Rs 1000 earning a day, and do not have the opportunity to sit in an air conditioned room or food on set but have to pack it from home and eat it in the heat outside. Not only the guard but the production house also needs to be punished severely for this incident. This horrifying system also needs to be punished for this incident. #respectthecrew #equalrights #health insurance."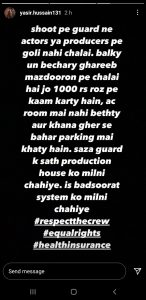 We agree with you Yasir and applaud you for standing up for those less privileged than you. If you also want to agree with him, you can let us know in the comments!