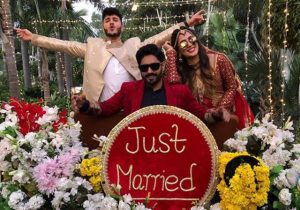 90's singing sensation Abrar Ul Haq gathered massive attention earlier last month for bringing a fun rendition of his classic, 'Billo' to Coke Studio's Season 12. The singer just dropped a new single called 'Chamkeeli' featuring Mehwish Hayat as Chamkeeli. The song shows the Punjab Nahein Jaungi actress as an excited bride who brings the Baraat to her shy groom's house for rukhsati contrary to the original concept where the groom is the one bringing the Baraat. Interestingly the shy groom in the music video is played by YouTuber Shahveer Jafry. Mehwish as Chamkeeli's boldness depeicts breaking of stereotypes and hig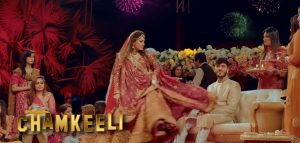 The track has an upbeat theme similar to that of Billo's making it a likely Shaadi jam for the wedding season ahead. Reportedly, the female lines in the song have been sung by Mehwish Hayat herself, naturally adding more zest to song!
Here's what the Twitterati have to say about the new track:
Abrar-Ul-Haq always comes up with new ideas songs with humour, this Chamkeeli is also a good one.🔥
And our very own Shaveer is looking a truly cute wala burger bacha in song.😂

— Lahore Qalanders (@ThandiLife) December 8, 2019
#chamkeeli is such fun song 😂

— Her Royal Highness 👸 (@Ayeshaaa99) December 8, 2019
Bhai @AbrarUlHaqPK another sixer out of the park. There could only be one #Chamkeeli & truly that is @MehwishHayat. Love the sentiments & presentation. Allah aur kamyabi de ameen.

— Hamza (@aikchar) December 9, 2019
Abrar ul haq new song "Chamkeeli" song is lit childhood type of song..@AbrarUlHaqPK 👍

— 𝚄𝚂𝙼𝙰𝙽 ™️🔧 (@UKhattak03) December 10, 2019
Back with the bang 👌🏻🔥@AbrarUlHaqPK #Chamkeeli ❤️ https://t.co/8wqWjcBfOi

— Atifa Ambreen (@atifa_ambreen) December 5, 2019
Watch the full music video here:
The song is getting appreciation for its progressive subject – showing women as empowered, strong beings who are the ultimate go-getters! What do you think of the Mehwish-Abrar collaboration? Let us know by dropping a comment on our Instagram page!