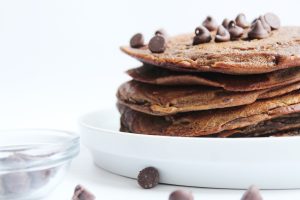 Everyone loves pancakes but chocolate pancakes are even better and there's no denying that! Especially when teamed with chocolate syrups, raspberries, strawberries and ice cream! Thus we decided to bring to you our all-time favourite chocolate pancake recipes  that you try making this Sunday!
Classic Chocolate Pancakes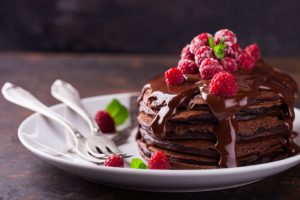 Ingredients (6 Servings):
2 egg yolks
2 whipped egg whites
3 tablespoons sugar
1 ⅓ cups milk
3 tablespoons melted butter
1 teaspoon vanilla extract
1 ½ cups flour
¼ cup cocoa powder
2 ½ teaspoons baking powder
3 ½ oz finely chopped chocolate
1 tablespoon butter
Chocolate Ganache:
1 cup cream
8 oz chocolate chips
Raspberries or Strawberries for garnishing!
Preparation: In a large bowl combine together yolks and sugar, while still whisking, add milk too. Carefully fold in whipped egg whites. Add and mix the melted butter and the vanilla. In another bowl, mix the flour, cocoa, and the baking powder. Now pour the milk and eggs mixture. Stir until the batter is smooth then add in the chopped chocolate. Let the batter sit for 15-20 minutes. To make the ganache, in a small saucepan, heat the heavy cream (do not boil). Take off the heat, mix with the chocolate chips until perfectly smooth. On low to medium heat, pour ¼ cup (60 ml) of pancake batter on a well-oiled pan. When bubbles start to form on the surface of the pancake, flip and cook it for a minute on the other side. When the pancakes are ready, pour the chocolate ganache on top. Garnish with raspberries and enjoy!
Hot Chocolate Pancakes
Ingredients (4 servings)
For the fudge topping:
3/4 cup chocolate chips
1/2 cup cream
For the pancakes:
1 cup all-purpose flour
1/4 cup unsweetened cocoa powder
1/3 cup granulated sugar
1 teaspoon baking powder
1/2 teaspoon baking soda
1/4 teaspoon fine salt
1/8 teaspoon ground cinnamon
1 large egg
1 1/4 cups milk
2 tablespoons melted unsalted butter
Marshmallows for garnishing!
Preperation: To make the topping, in a small microwave-safe bowl, microwave the chocolate chips and cream until melted. Stir to smoothen and set aside. To make the pancakes, take a large bowl and whisk together the flour, cocoa powder, sugar, baking powder, baking soda, salt, and cinnamon. In a separate bowl whisk together the egg, buttermilk, and melted butter. Pour the wet ingredients into the dry ingredients and stir until fully mixed. Put the batter aside for 30 minutes. Next take a large nonstick pan put on medium heat. Coat with butter and pour the batter by 1/4 cup onto the hot pan. Cook until the edges are set and bubbles have formed on the top, for an estimate of 2 to 3 minutes. Gently flip and cook until done. Stack pancakes on plates and top with the fudge sauce and mini marshmallows for a hearty pancake meal!