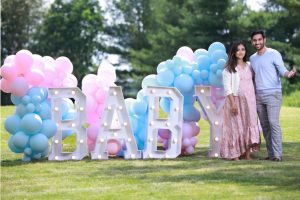 Zaid Ali T and his wife Yumna Ali revealed the gender of their first baby in  a fun Vlog on YouTube with their close friends and family. The Canadian-Pakistani vlogger, Zaid announced on his official Instagram account that he and his wife will be uploading a vlog in which they will reveal the gender of their baby and fans were eagerly waiting for it.
The Vlog was finally uploaded yesterday with Zaid and Yumna's close family members and a few friends. The couple decorated their home and garden with blue and pink balloons along with some props. They asked their family members to make a guess about the baby's gender and then revealed the gender in a fun game. The couple is expecting a baby boy and it was such an emotional moment to see everyone rejoicing as the gender was revealed.
Yumna took on her Instagram and said, "Thanking everyone for their good wishes.  "Boy/girl, health/ability is all in Allah's hands. Every child should be loved and treated equally, regardless of their gender, ability, or skin colour!"
She further added, " "All children are a test for their parents and I pray that we are good parents to this baby and this baby grows to be a good human being!"
We wish the couple all the very best and may Allah Almighty keep their family safe with all evil eyes off, Ameen!