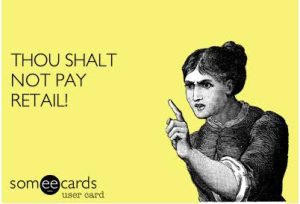 Thrift stores have taken over our Instagram feeds like smog invading our skies but what is it all about and why the global hype? We attempt to answer these questions.
For beginners, thrifting is the intent to buy items at cheaper/affordable prices by opting for pre-loved products. They can be clothes, shoes, furniture, ceramics etc. The shift to buying pre-owned stuff  is greatly appreciated because this makes us skip the fast fashion sale culture that promotes buying every season and every trend while the organizations continue to exploit their workers.
Normalizing thrifting allows fashion junkies to buy luxury goods that may have been a dream for them, however buying a pre-owned item allows them to enjoy luxury at an affordable price.
The surprising thing is that Tiktok has made thrifting 'cool'. While we always thought that following sustainable practices is cool but when it's Tiktok approved, its a big deal.
However, the concept of hygiene always seemed daunting but Alfiya Khan solves this query of us as she talks to Vogue India about this concern "Most fast fashion items have chemical additives that are harmful for the body which is why, as a rule of thumb, it is recommended that new clothes be washed before wearing. A thrift store, on the other hand, only sells washed clothing. In fact, given the prejudice that thrift stores face, we often go out of our way to ensure the clothes look and smell new to provide a good customer experience."
Turns out buying a brand new item may be less hygienic than buying from a thrift store.
Furthermore, for the fashion mavens that love to hop on upcoming trends and consider thrifting not a viable option because the stuff is outdated, well we come bearing good news! Gen-Z have transformed the way we look at trends; the cyclical nature of trends have made the 90's wide legged jeans, and vintage leather jackets make a comeback so no, you will not be missing out on trends.
If you buy from trustworthy thrift stores then the curators ensure that the items aren't worn out either. It's a win-win fellas!
Lastly, shopping responsibly even when thrifting is still a given. Avoid going overboard with it. Let's wear better!
via GIPHY
That's all!