Trigger warning: mention of rape and sexual harassment
There isn't a day when the news reports emerging remind women how unsafe and hostile this country has become towards them. A few days ago, a law protecting women from domestic violence was struck down on the grounds that it was "un-islamic" or a man was found uploading videos on Youtube where he was "pranking" women by harassing them for not wearing dupattas. Let's face it: women are exhausted since everyday we have to fight to claim space in our society.
Amna Baig who works with the Islambad police pointed out on Twitter that half of her workload would disappear there were better laws dealing with men who harassed and abused men. A man in the comments had the audacity to shut her down by commenting that women could not survive without men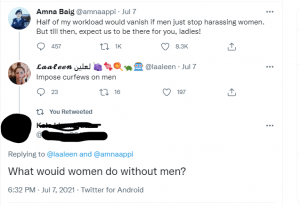 Women soon came into the comments by listing down all the freedoms they could achieve to remind men that how terrible restricted they have become of the patriarchy. It turns out: women can do a lot of things without men
use public transport after 8pm without being hit on by old men https://t.co/SQGsllJKtI

— Alex (@CANONCASTlEL) July 8, 2021
Not be harassed, not be stalked, not be gaslit, not be abused, not be divorced for having a daughter, not be burned alive for dowry, not be cheated on with the excuse that "Islam mein 4 shadiaan allowed hain", not be killed for honour, not be punished with acid for saying no. https://t.co/rkHwa8ii8F

— Syed Zain Raza (@MrSyedZainRaza) July 8, 2021
My mom would be happy. My mental health would be stable. My home would be a safe place https://t.co/FueWGQ8yUt

— oompa loompa (@helluMrRachel) July 8, 2021
Our life would be save from such nightmares! https://t.co/WCJjKqBU82 pic.twitter.com/V5uJz34ZVK

— Mehwish jabbar🇵🇰🇵🇸 (@gypsyFemay1427) July 8, 2021
so much. sb se pehlay enjoy the night air for once in my life without being afraid that a man is going to kill me for it. uskay baad explore God's land without being afraid that a man is going to kill me for it. uskay baad wear what I want without being afraid that a man is goin- https://t.co/x5vz79SI6z

— thrifted vintage feminist 🇵🇸 (@booksaurlooks) July 8, 2021
Bottom line is: let's stop victim blaming women and restricting them from even doing the most basic things like walking outside without the need of a male chaperone. Better laws need to be implemented that hold men accountable for their actions, and empower women to remember that the streets and their homes belong to them as much as they belong to everyone else!