Do we ever let women catch a break and stop criticizing them over the smallest things? Whether it is about her attitude or dressing style, or even her pregnancy, society never holds back to find a flaw in a woman that helps them justify the fact that she is completely useless. And even in 2022, we are done explaining over and over again that women are not helpless, inanimate objects that are unable to complete their jobs because of pregnancies or periods.
Alia Bhatt the Bollywood celebrity started this conversation when just a day after she had announced to the world that she was pregnant with her first child with her husband Ranbir Kapoor, misogynist news began spreading that the actress was putting her shoots on hold and would need a lot of rest. Now Alia Bhatt  has time and time again proved that she is a talented and powerful actress, given how she blew her audiences away with her performance in "Gangubai Kathiawadi". And she took a screenshot of a celebrity news page and uploaded it on her Instagram stories to comment on how unbelievably sexist it is that women are considered as a problem when their sickness or pregnancy comes in the way of their work commitments, that immediately such reports would start emerging:
"Meanwhile we still live some peoples heads we still live in a patriarchal world…fyi
Nothing has gotten delayed! No one needs to PICK anyone up. I am a woman not a parcel!! I do not need rest at all but good to know you'll have a doctors certification as well 🙂 This is 2022. Can we pls get out of this archake way of thinking!!"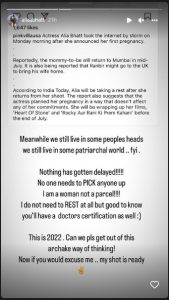 Pakistani actress Zara Noor Abbas supported Alia Bhatt's stance by revealing that even women in Pakistan are subjected to such treatment because brands wanted to drop her since they assumed she wouldn't need work after pregnancy. The actress pointed out that women do not need to keep proving time and time again that they can't handle being pregnant and working all the time, and its time society stops dictating to them what they can or cannot do. The actress had written:
"And I thought only Pakistan thinks like this, especially when brands wanted to drop me off when they got to know that I was expecting-Becoming pregnant and being an actress makes the society feel you are not GOOD for work anymore. Well guess what, WOMEN are good enough for everything and anything and it's time the DICTATORS realise so.
and we don't have to prove our motherhood and craft to any patriarchy."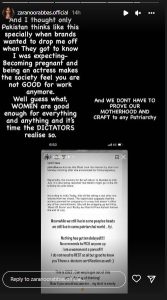 We have never sought to question the fact that how during months like Ramazan, it is little girls and women who are handling all of the household chores like cooking and cleaning alongside with their fast, but grown men cannot get up from their air conditioned rooms incase they suffer from fatigue. So let's stop belittling and looking down on these women by consistently calling their talent and abilities in question, when they have kept showing up time and time again to do their jobs. It's time society realized that women aren't helpless inanimate objects for them to question and put around.