Actor Meharbano recently posted about the internet conundrum which broke out after actor Feroze Khan's wife posted about being abused in her marriage.
Where many celebrities condemned people coming out and talking about abusive relationships, Meharbano rightly pointed out why sharing one's story of abuse and violence in relationships is completely different from washing "dirty laundry" in public.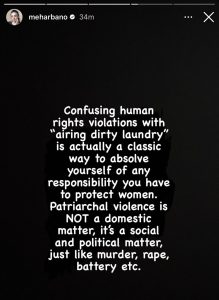 "Patriarchal violence is NOT a domestic matter, it's a social and political matter just like murder, rape etc", the actress wrote. And we couldn't agree more.
Prior to Meharbano's post, Syeda Aliza Sultan had been brave enough to post about her decision to end what had been four years of a marriage ridden with "continuous physical and psychological violence". The matter is currently pending in court.
View this post on Instagram
For those equating Aliza's emotional story to "airing dirty laundry", it is essential to understand the stark difference between conflicts and differences in a relationship, as opposed to abuse in a relationship. The former can be dealt with privately, but the latter needs to be brought out into the open.
Calling out abusive and violent behavior publicly not only helps healing for the victim, but is also necessary so that others out there can be warned of the predatorial and harmful behavior of the abuser!