Share this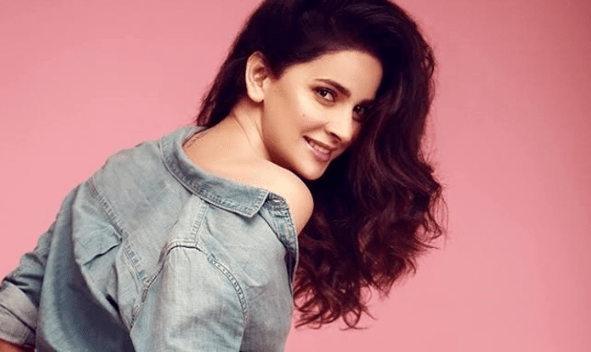 Saba Qamar Zaman, better known as Saba Qamar is a name familiar to all. When one thinks of Saba, words like fearless, bold, successful and boss woman come to mind!
Saba started her acting career in 2005 with PTV Home television series Mein Aurat Hoon and continued winning hearts ever since, shortly becoming a superstar and an acting powerhouse. Loved by all, Saba brought pride to Pakistan via her acting talent not only locally but also on an international level by coming together with Irrfan Khan (late) for comedy drama film Hindi Medium – winning several awards for it.
After winning an award for the film at the Masala Awards in 2017, I was fortunate enough to get a chance to work with the superstar for a shoot. Considering this diva had just flown back from Dubai after been internationally honoured for her work ( she had just bagged the 'Breakthrough Performance of the Year' Award at the Masala Awards) – my expectations were pretty narrowed down. I expected to meet a personality – fully intimidating, formal to a tee and just expected to have a very 'star-struck' kind of a time. To my surprise, things were different. Very different. And that's an understatement in itself.
This 'superstar Saba' was kind, composed, the ultimate epitome of humbleness and one of the politest human beings I had ever met! She was warm, friendly and yet had an aura that would easily woo even the toughest ones! My meeting with her has been a memorable one – in fact I vividly remember even the smallest of details, like the exact hue of red of the pomegranate grains she was having, her sweet smile, the unfiltered conversations we had that day and of course, her calling me 'Divya' because I reminded her of the 90's Bollywood heroin Divya Bharti.
If we were ever to conclude why Saba Qamar is the definition of a true star – the answer really is that Saba's unbound success, supreme talent and her trait of being unapologetically herself at all times and yet be so humble and down to earth is what makes her a true star!
The actress recently made headlines for episode of 2 of 'The Chay Show Featuring Saba Qamar' which is posted on her YouTube channel in which she dropped some major truth bombs about her love life and people cannot have enough of her.
Watch Episode of 2 of 'The Chay Show Featuring Saba Qamar' below:
Saba's statements in the video are so raw, so powerful and ha gotten people to talk about it. Here's what they are saying:
She is my iron lady #SabaQamar https://t.co/ANb0myvSbH

— SabaQamar_diva (@SabaqamarDiva) May 19, 2020
Give her an OSCAR#SabaQamarpic.twitter.com/CAT3Nmat1G

— Najeeb ul Hasnain (@ImNajeebH) May 19, 2020
#SabaQamar the true gem of our society love my SQ love the way u r my lady my Queen @s_qamarzaman https://t.co/s7vOLpQxEN

— SabaQamar_diva (@SabaqamarDiva) May 19, 2020
Watching her since my childhood in hum sab umeed se hein and I'm still fan of her!! QUEEN

— Syed Taha (@RoccoTDon) May 18, 2020
Saba Qamar is whole mood.

— TOOBA (@toobaastic) May 19, 2020
ummmmmm who knew saba qamar was a fucking national treasure. might have to stan https://t.co/cbkMShyDYY

— 🅱️ichael (@THICCFILLA) May 18, 2020
Saba qamar is a total savage dude.

— Hafsah sajjad. (@rich_avocado) May 18, 2020
No one deserves Saba Qamar she's too perfect. Oh my gawd I'm in love

— Unprecedented Circumcision (@Thomas_WayneFPt) May 18, 2020
Thank you Saba Qamar for your much appreciated contribution to our nation's entertainment industry and THANK YOU for being YOU!
You will always be loved and valued!
Share this