"Aurat hi aurat ki sab se bari dushman hoti hai" is the belief our dramas and films love teaching our audiences because when was the last time you saw a television show that the women on screen weren't feuding over the men in their lives? We categorize women into two spots: the satti savitiri and the evil woman: both of them are solely relevant to the plot because they're enemies who want to marry the same man which proves how our entertainment industry still refuses to believe that female friendships can be empowering. Which is why it is wholesome to witness these celebrities who staunchly defended other women from trolls and misogynists on the internet, and proving to everyone that women can be each other's biggest supporters and best friends!
When Momina Mustehsan schooled a troll for shaming Alizeh Shah for the way she dresses and staunchly reminded them that no woman owes a man an explanation for the way she chooses to live her life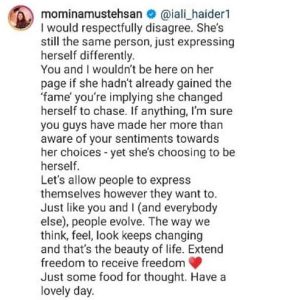 2. Or the time when Ayeza Khan made everyone emotional with the heartwarming tribute she dedicated to actress Mahira Khan on the day she marked 10 years in the industry.
View this post on Instagram
" From your great films to your blockbuster dramas, you have made us all proud, representing us internationally and we are quite fortunate to have you." the actress had penned in this note.
3. When actress Mansha Pasha stood up to the misogynists who were criticizing female actresses for their dresses at the Lux Style Awards and saying that the harsh judgement and slut shaming doesn't define who a person is by solely judging them on their looks
Every award show ends with a slew of sermonizing comments under the photos of all female celebrities making character judgments about how good or bad she is based on her outfit.
Honestly this is the real superficiality. Judging a persons inner nature based on an outfit choice.

— Mansha Pasha (@manshapasha) October 10, 2021
4. Xarnish Khan made us proud when she had penned a note on Instagram defending Meera against the critics who were making fun of her English accent, by pointing out that speaking well in English doesn't indicate how intelligent a person is!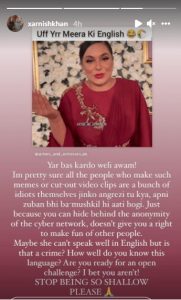 5. Or the time when this wholesome interaction between Hira Mani and Saba Faisal had us clutching our hearts because of how adorable this is!
View this post on Instagram
Female friendships can be the the best part of any woman's life because there is nothing women can't accomplish when she has a supportive group around her! So please let's learn to call out misogyny in our society that encourages us to view other women as our competition and let's be more empathetic towards each other!