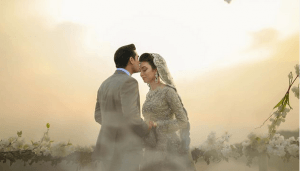 Weddings make a for lifetime worth of memories to cherish for the years to follow, and it only makes sense to give such big of a responsibility only to the best who not only know their work but are also passionate about it. This is why we bring to you the best of photographers from the year of 2019 – wedding edition!
1. Maha's Photography
Maha's Photography has recently been on the high for their rich photography and has also successfully covered multiple celebrity weddings including that of KIng of Couture – Ali Xeeshan's.
https://www.instagram.com/p/B45EghAgyJ2/
2. The Videographers
The Videographers are known for capturing aesthetically pleasing shots especially those featuring scenic backgrounds. We saw some surreal photographs of outdoor weddings which looked no less than have been shot in utopia courtesy of the Videographers.
https://www.instagram.com/p/B6DbrsjJHnJ/
3. HS Studio by Bilal Saeed
If you're all about images that pop through colour, HS Studio by Bilal Saeed is the one for you as they have truly mastered the art to lively and vibrant pictures. With each image narrating a story of it's own, this photography house truly knows what they're doing!
https://www.instagram.com/p/B5lHjW-lb7T/
4. Studio Afzl
Studio Afzl has been around for a while and is known for their fine photography and elaborate coverage of some of the biggest weddings of the nation in the past few years! Some of our favourite 'shaadi' images have hailed from this photography house!
https://www.instagram.com/p/B5nTmoLgTUE/
5. Fine Art Weddings by Irfan Ahson
Irfan Ahson needs no introduction and even years later, remains a classic and a favourite when it comes to wedding photography. The photography house's images speak for themselves as they barely need words of appreciation to reflect upon the perfection executed in each image!
https://www.instagram.com/p/B53FPFnl3L2/
6. OPM Shoots
Only 4 years into the business, OPM Shoots has successfully managed to carve a niche in the wedding photography department with their magical play of lightening and composition resulting in fantastic images bound to take your breath away!
https://www.instagram.com/p/B5n8avrgLaX/
Did we miss your favourite photography house from the list? Let us know by dropping a comment on our Instagram