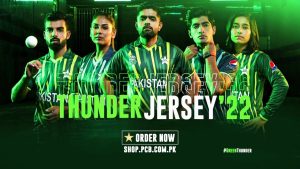 Watermelons are having a moment!
On Monday evening, the Pakistan Cricket Board (PCB) finally revealed the much-awaited T20 Thunder jersey in a video featuring Babar Azam, Shadab Khan, Naseem Shah, Fatima Sana and Kainat Imtiaz. In a funny or should we say a refreshing turn of events the yellow and green stripes on the jersey is making Twitteratis compare it to Watermelons.
Who would have thought the release of the new jersey could be meme material but leave it to Cricket fans to hype anything and everything.
There has also been some evident banter between Indians and Pakistanis. While people from across the border are calling it a 'Tarbboz',
people have also compared India's new jersey to popular Toilet cleaner Harpic. At this moment it looks like anything blue works.
Now onto the memes.
𝐓𝐡𝐞 𝐛𝐢𝐠 𝐫𝐞𝐯𝐞𝐚𝐥!

Presenting the official Pakistan T20I Thunder Jersey'22 ⚡

Order the official 🇵🇰 shirt now at https://t.co/A91XbZsSbJ#GreenThunder pic.twitter.com/BX5bdspqt1

— Pakistan Cricket (@TheRealPCB) September 19, 2022
"Your team jersey looks like a watermelon. Your team jersey looks like a Harpic bottle" 🤦🤦 – A war of words inaugurated between Indian and Pakistani cricket fans since both the teams have released their official jerseys for T20 WorldCup.

— Arfa Feroz Zake (@ArfaSays_) September 19, 2022
Pakistan's new jersey looks like a watermelon.

— Zoya 🌸 (@ZoyaKiBatein) September 19, 2022
PCB presenting the new Kit for #T20WorldCup2022 pic.twitter.com/b4p34qd4Yn

— J. Sad Hazelnut (@naanchannay) September 18, 2022
Fans compares the new kits of Team India and Pakistan with Harpic and Watermelon! #tarbooz pic.twitter.com/pXNXvzjwjh

— Abdul Wahab ♥️🥺 (@Malik_Hun_Yarr) September 19, 2022
Absolutely brilliant Kit But our nation have problem with everything. You just can't make them happy. Call it Tarbooz or whatever but if Pakistan wins the #T20WorldCup in this Kit, then same people will remember this Kit for years.#GreenThunder ⚡ #PAKvsEng pic.twitter.com/hKmEY3cffd

— 𝗭𝗨𝗡𝗔𝗜𝗥𝗔🏏🇵🇰 (@BabarFanGirl56) September 19, 2022
Tarbooz kit?
Another reason to love it😂#Jersey pic.twitter.com/y7B9yvnvuh

— Mohammad Rahim (@raheemkhilji216) September 19, 2022
PCB: hasn't said anything regarding Pakistan's #T20WorldCup2022 jersey
Paki awam: Tarbooz🍉#Pakistan #Cricket pic.twitter.com/j90PA9lGPu

— Ali 👾 (@mewhengibberish) September 19, 2022
Sb Se cuteee Watermelon 😍😚 pic.twitter.com/EARQeDhhKl

— a. (@theanu_Sayss) September 19, 2022
While criticism for the Pakistani Cricket team is a constant, endless love for Captain Babar Azam and thirst tweets for Naseem Shah are also proving to be a regular Twitter feature.
Many other teams including Australia and England have also released their kits but looks like all the buzz surrounds our kits. We're not complaining.
🎵 Watermelon sugar HIGHHH!🎵