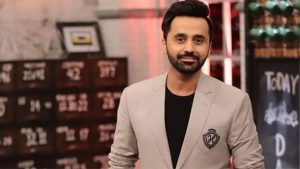 Waseem Badami is one of Pakistan's most famous journalist, television host and news anchor. He is currently hosting the popular talk show "11th Hour" on Ary News and is known for his 'masoomana sawal' which somehow became his identity as well. Every year Waseem hosts Shan-e-Ramzan on Ary Digital and has gained a huge amount of appreciation from Muslims all across the globe as it is a good source of Islamic education and much more.
He made an appearance with Shaista Lodhi on 'Time Out With Ahsan Khan' and while having a fun and heart to heart conversation with Ahsan he revealed about his struggles in becoming a news anchor. He said that he always wanted to become a journalist and a newscaster as he had a great amount of interest in this field but was always discouraged by his friends and family members and wanted him to make his career in some other field.
He further added, "I had to struggle very hard because I did not have any one in my family or social circle who would be of any help in getting me a job in any of the news channels.
He further shared an incident with Ahsan where he said that he went for an audition to a very big news channel in Pakistan and a senior person came out and told him that he will never be able to become a newscaster as newscasters dont look like him and asked him to leave.
Waseem said that this rejection gave him more strength and he promised to give himself five years from that time and just asked help from Allah and now he is one of the leading journalist and news anchor in Pakistan.
The anchor also revealed the risks attached to this job as he revealed how people blackmail anchors and threaten them which is a big pressure that anchors and journalists have to deal with every other day.
Here is the link to the interview: