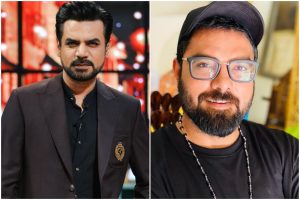 Vasay Chaudhry responds fo Yasir Hussain's statement regarding his two films, Jawabi Phir Nahi Ani and Punjab Nahi Jaungi.  He said, "Besides providing quality Family entertainment, these films (Jawani Phir Nahi Ani and Punjab Nahi Jaungi) played a vital role in the growth and resurfacing of Pakistani Box Office so that films like "Lahore Se Agay" could also run in cinemas #dontgetcarriedawaybysocialmedia".
Yasir Hussain is making a come back to the big screen with his upcoming film, Javed Iqbal' based on a Pakistani serial killer. He shared the first look of his character on all his social media accounts and after a few days Yasir posted on his Instagram story saying, "Someone asked me what would be the message of this film? What's the purpose of it? I want to know what kind of message does Jawani Phir Nahi Ani, Punjab Nahi Jaungi or such films really give out?".
This statement from Yasir offended Vasay and we completely agree that these two block buster movies, Punjab Nahi Jaungi and Jawani Phir Nahi Ani really helped in the revival of our Pakistani cinema!