Leading actress #Urwa Hocane recently responded to careless remarks made by senior actor #AijazAslam about the actress on a recent talk show.
The Udaari actress took to social media posting an official response, terming Aslam's remarks regarding her as being 'baseless accusations', who despite never really having worked with her, publicly referred to her as being an 'unprofessional' actor.
Responding to his careless remarks, Urwa posted a statement rightly saying that she respects all her seniors, but they too must be careful of what they say as their words can hurt someone else's careers. – Statement via Maliha Rehman. Urwa further wrote "I respect all my seniors in the fraternity including their opinions but they too have a responsibility towards their younger counterparts, and the effect their words can have on someone's image, mind and even work."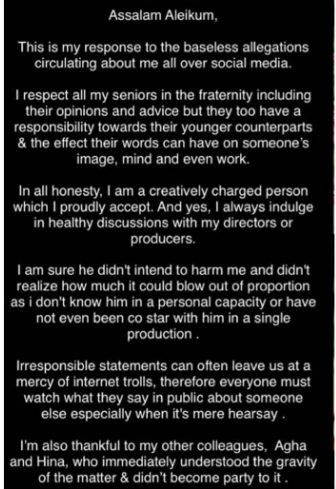 It all happened on actor Agha Ali and wife Hina Altaf's show 'The Couple Show', where Aijaz Aslam was invited as a guest along with his wife, Sabeen Aijaz, where he talked openly about many the how business, his personal life and in a poor taste of topics, Urwa Hocane too!
 Aslam went as far as to say that he had heard wrong things about actress Urwa Hocane and if they are true, the actress needs to learn some manners. Taking matters forward, Aslam also took her name as the most unprofessional actor to work with which was a bit much!