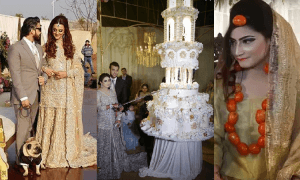 2019 has definitely been a fascinating year! What made it even more interesting were all the weddings… With our favourite celebrities tying the not to seeing exuberant glamorous weddings – we witnessed a variety of wedding trends. Which is why we decided to put together a list of unusual wedding trends we saw this year … but are they here to stay, or die? You decide!
1. The Pug In a Tux Wedding
Don't have a best man? No problem! Your pug will suffice – just put it in a tux! This couple stepped up their wedding game by bringing their beloved pug dressed in a tux to their wedding. Adorable!

2. The Bride Who Entered in a Cake
Not in a paalki, not in a doli – a cake! Yes you read that right. This Lahori bride gave everyone a run for their money by living her ultimate dream of arriving in a magnificent cake on her Mehndi!
https://www.instagram.com/p/BqrykzCACPD/?utm_source=ig_embed
3. The Couple Who Made Their Entry in a Boat
A Faislabadi couple surprised everyone by entering their wedding in a decorated boat! Ain't nobody got time for mainstream boring entries! L O V E!
https://www.instagram.com/p/Bu1lnovFtWz/?utm_source=ig_embed
4. Bride Who Wore Tomato Jewellery
One of the biggest concern a bride has when she's nearing her big day is THE jewellery! It's not as simple as just going to a jeweler and purchasing whatever pehla set she sets her eyes on. Its an entire process, but this particular bride decided to step up her game by wearing jewellery made of tomatoes on her wedding! (We don't blame her, with the rocketing price of tomatoes, it only makes sense. Gold or tomatoes – same thing!)
Tomato jewellery. In case you thought you've seen everything in life.. pic.twitter.com/O9t6dds8ZO

— Naila Inayat (@nailainayat) November 18, 2019
5. The Couple Who Used a Sword To Cut Their Cake
We saw a variety of big cakes in 2019, but this one is the father of them all. This couple decided that they wanted a cake so tall for their wedding, that it would take an actual sword to cut it properly!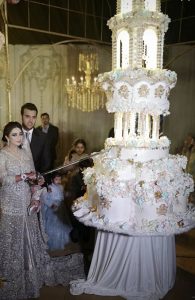 Did we miss out on a wedding trend from 2019 that should've been on the list? Let us know by leaving a comment on our Instagram page!