Minal Khan and beau Ahsan Mohsin Ikram are now engaged! Or at least that's what Ahsan's latest Instagram post hints on. The actor shared photographs from Valentine's Day with Minal and one of the photographs shows shows the doe-eyes actress grinning and showing off her ring which sat beautifully on her finger!
Here are the original photos posted by Ahsan on his Instagram: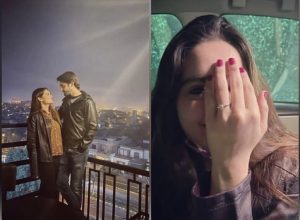 He captioned the post as 'Happy Valentine's Day!❤️' And had tagged Minal.
Minal Khan is yet to make an announcement and fans are eagerly waiting for a word from the Jalan actress. Because at this point no one really knows what to expect.  Here's what people are saying:
Congratulations to #MinalKhan and #AhsanMohsinIkram
by the way ye 3 alag hain pic.twitter.com/Dyo2MKuCrd

— Zurain (@ZurainMughal) February 15, 2021
Congratulations to #MinalKhan and #AhsanMohsinIkram as they announced their relationship officially on valentine's day 🙂 pic.twitter.com/AQ4a2ccDT6

— Romzz (@aamm_c_larki) February 15, 2021
RT @ETLifeandStyle: Actors Ahsan Mohsin Ikram and Minal Khan are now engaged and their fans didn't even know. #etribune #etlifeandstyle #minalkhan #AhsanMohsinIkram

For more: https://t.co/2uiGnBRFI8 https://t.co/Y9Y7ZcBjbP #Pakistan

— Umar Kamran🎗 (@UmarKamran96) February 15, 2021
Fans and well wishers are ecstatic and want more news on the scoop. We guess we're going to have to wait for an official word from the couple. If the two are actually engaged then we send them our heartiest congratulations and best wishes! They sure make an adorable couple and compliment each other well in many ways!
What are your thoughts on this? Do you think Minal Khan and Ahsan Mohsin Ikram are officially engaged or did they officially announce their relationship? Let us know in the comments on our Instagram page!
Until next time!