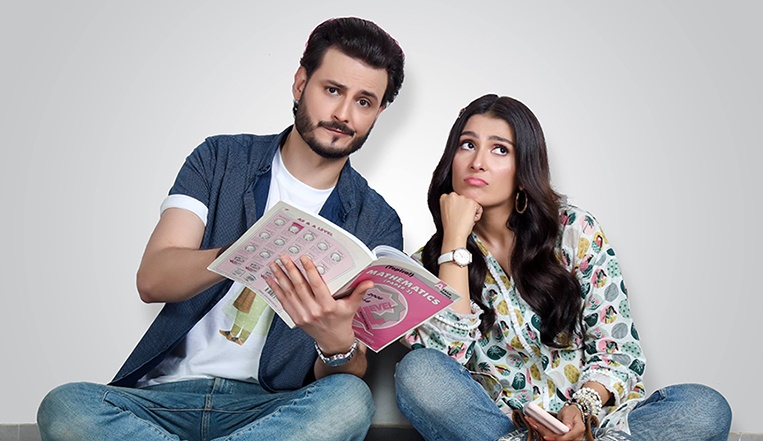 Ramzan special dramas add all the more fun to Ramzan. Looking forward to them after Iftari everyday becomes a family activity. Chupke Chupke aired its first episode yesterday and twitter is loving it, especially Ayeza Khan and the comic timing of the other cast members as well. The star-studded cast also features Mira Sethi, Asma Abbas, Ali Safina, Arsalan Naseer (of CBA) and Aymen Saleem. The first episode showed how Osman Khalid Butt plays a suave, sophisticated person who's looking for an educated and mature wife. On the other hand Ayeza Khan is the complete opposite and truly the queen of destruction who loves herself! Family drama, sibling nok jhok took center stage in the first episode. Looking forward to what comes next!
So #ChupkeChupke Is such light hearted show 😍😂 Romcom is truly my genre @aClockworkObi Looks really amazing is that calm mature look…I genuinely loved all characters & most amazing thing was it was fast not slowmo I lobe the pace @ArslanNaseerCBA

— Confused Soul 🍃 (@ConfusedMulgiii) April 15, 2021
Loved the 1st epi of #ChupkeChupke super fun and entertaining 😍 can't wait 4 the next episode. #AyezaKhan #OsmanKhalidButt #ArslanNaseer #MiraSethi #AliSafina #AymenSaleem

— Shazmeen Batool 🇵🇰 (@ShazmeenBatool) April 14, 2021
#ChupkeChupke is fast paced, entertaining and off to winning start.

— Nayla (@NaylaAmir) April 14, 2021
OMGGG #ChupkeChupke
I'm absolutely loving this drama♥♥. Shukar hy rona dhona sa fursat mel gae pakistani dramas ko🌚

— Butwhy🌻 (@HiraFarhad) April 14, 2021
Chupke Chupke was soo good man, it's got Suno Chanda vibes to it

— Danial🕊 (@danialhussain24) April 14, 2021
1st episode of #chupkechupke was just amazing. Only watching for @ArslanNaseerCBA . #Bhaiwah

— Aiemen (@Aiemen6) April 14, 2021
I LOVE CHUPKE CHUPKE!! OSMAN AND AYEZA ARE SOOOOOO CUTE OMG

— sadaf (@sadaf1100) April 14, 2021
Amazing first episode.. i really enjoyed #ChupkeChupke #1

— Fouziaqureshi (@Fouziaqureshi10) April 15, 2021
What a treat to watch this fun-filled first episode of #ChupkeChupke Ayeza and Osman look good together and their fabulous acting ❤️ love fadi-hadi bonding ❤️ siblings Masti and oldies nok jhok 😂 ,can't wait to the story unfold ❤️@aClockworkObi @Ayezakhan_ak

— Sa!ma🦋✨ (@Saimiirfan) April 14, 2021
omggg #ChupkeChupke is such a breath in fresh air. I ABSOLUTELY LOVED THE EPISODE. so so good and it made me laugh so extra brownie points.
the cast and their characters?! p e r f e c t!! 🥺❤️

— aati 🌱🤍 (@shootiiiingstar) April 14, 2021

Some people are also of the view that the drama is giving 'Suno Chanda' vibes, the overlap of same actors could be a reason  for that assumption. However, the question remains if 'Chupke Chupke' will be to garner as much appreciation as 'Suno Chanda' did, only time will tell. Regardless, we are thoroughly enjoying the fun-filled vibe.
For our last feature on Ramzan special drama serials, click here.