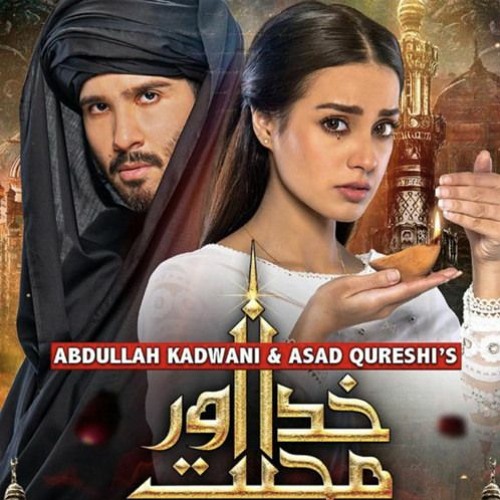 The latest edition of Khuda aur Mohabbat series is garnering a lot of attention from the audiences. The characters of Farhad played by Feroze Khan and Mahi played by Iqra Aziz is getting a lot of appreciation.
Besides the protagonists the cast also includes Junaid Khan, Javed Sheikh, Tooba Siddiqui, Sunita Marshall, Rubina Ashraf, Asma Abbass, Usman Peerzada, Seemi Pasha, Zain Baig and Sohail Sameer.
The show amalgamates the feelings of love, longing and spirituality together. The latest episode was especially popular because of its emotional impact, intense scenes and gut wrenching dialogues.
When it comes to TRPs and social media trends, the show is a total hit! Khuda aur Mohabbat Season 3 has been produced by Abdullah Kadwani and Asad Qureshi under 7th Sky Entertainment.
It is no surprise to see the drama trending on social media sites after its release and this week was no different. Scroll down to see Twitter's reaction to the latest episode.
Can we appreciate this A1 performers…what a phenomenal job they done…❤️both are extra special in their characters… what a bomb chemistry between this firey leads💥…hat's off 🙌👏❣️ #Ferozekhan #iqraaziz #KhudaAurMohabbat3 pic.twitter.com/knj53OQNBx

— M🥀 (@iammantaa) April 30, 2021
Outstanding! Never saw anyone cry so beautifully onscreen, these two were so good.#FerozeKhan #IqraAziz #KhudaAurMohabbat3 https://t.co/B0iZIWbjSA

— Sundas (@Sundas_28) April 30, 2021
Today's episode of #KhudaAurMohabbat3 was breathtaking😍@ferozekhaan has portrayed his character farhaad so brilliantly. The way he delivered every dialogue was heart touching😍💯@iqraazizhussain is super talented. Absolutely loved her performance😍👏🏻#FerozeKhan #iqraaziz pic.twitter.com/Uyk8FgZvOB

— Lollywood (@Lollywood17) May 1, 2021
Khuda Aur Mohabbat season 3 episode 12 has crossed 10Million views with just 18 hours!!!!!AMAZING!!!!EXCELLENT!!!!!CONGRATS!! Again!!!#FerozeKhan #KhudaAurMohabbat3 #IqraAziz

— Orthee (@ortheeorthee) May 1, 2021
His performance in todays episode was just remarkable, the dialogue delivery, the intensity in his eyes, the pain in his voice was purely tearful…only @ferozekhaan can do it!
Can't wait for the next episode!#FerozeKhan#KhudaAurMohabbat3 pic.twitter.com/rmNEcyjxUb

— Anaya (@MaYaVids) April 30, 2021
1 million views within 2 HOURSS!!!!! THIS EPISODE IS 💔💔🔥🔥 #KhudaAurMohabbat3 pic.twitter.com/ok9Adtnfnn

— Rabia Asim (@RabiaAs12220801) April 30, 2021
TRENDING game is so strong & unbeatable…#KhudaAurMohabbat3
Is a real winner❤️🙌👏#Ferozekhan #IqraAziz pic.twitter.com/voIzAZHa7A

— M🥀 (@iammantaa) April 30, 2021
What an emotional & intense episode it was! #KhudaAurMohabbat3@ferozekhaan #IqraAziz #ferozekhan pic.twitter.com/0avb4LZab8

— 𝑴𝒖𝒉𝒂𝒎𝒎𝒂𝒅 𝑯𝒖𝒛𝒂𝒊𝒇𝒂🌸💙 (@Muhamma74747944) April 30, 2021
Don't cry it was just a scene

Scene:#KhudaAurMohabbat3 pic.twitter.com/yYYDTkgU8n

— Mustafa khan (@Mustafa__here) April 30, 2021
This goes for feroze and iqra's MAGNIFICENT PERFORMANCE!!!!!!!!!!!! ❤️❤️❤️❤️❤️❤️❤️❤️❤️ You guys really know how to make audience cry man 😭😭😭#KhudaAurMohabbat3 pic.twitter.com/4vSV1dJgHa

— Rabia Asim (@RabiaAs12220801) April 30, 2021

The audiences are eagerly waiting to see the story unfold, while many are hinting at a sad ending, its not certain how the show will conclude. Regardless, the audiences are hooked and are loving the journey.