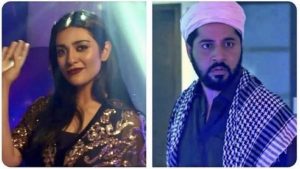 Sarah Khan and Imran Ashraf have been very successful in wooing the audience via their solid performances in the currently on-air drama serial Raqs-e-Bismil. The drama serial released only almost two weeks ago and is already keeping the audience on the edge of their chairs!
The Raqs e Bismil is directed by Chhalawa director Wajaht Rauf and co-produced by Shazia Wajahat and Momina Duraid. The cast of the drama serial includes Imran Ashraf, Sarah Khan, Mehmood Aslam, Nida Mumtaz, Anoushay Abbasi, Momin Saqib and Javeria Abbasi amongst many others.
(Read more about Raqse Bismil here.)
The latest episode of the drama serial surprised the audience with a plot twist and here's how the audience is reacting to it:
Whn u crush over someone's personality and then u get to know they were faking it all that time.
DAMN !!!😣😣😣
feeling extremely sad for MUSAA 🥺#RaqseBismil

— م-ا-ہ-ا-م (@Latissmus_Dorsi) January 9, 2021
Tmhe jo Tmhe jo
Maine dekha maine jana#RaqseBismil pic.twitter.com/OrQykk2Dey

— 🇵🇰عريفہ (@Da_brownsta) January 9, 2021
Masoom to wo hain Jinhen in ka scene nahi pta😂#RaqseBismil pic.twitter.com/0C8j351sQI

— Tayyab Saeed (@t_saeed6) January 9, 2021
Moosa in First Episode.
Moosa in Third Episode.
You can literally witness the difference between the two and the change didnt look out of the place or just sudden. The sign of Good script and Good execution. @IamImranAshraf #RaqseBismil

— 11:11 (@aavas1111) January 9, 2021
The most interesting cliffhanger I have ever seen 😔😊👊#Raqsebismil https://t.co/eRcukZj5Sv

— shaimαα💥🎈 (@Shaimaa07533973) January 9, 2021
In the episode, Moosa (Imran Ashraf) discovers that his love interest Zohra (Sarah Khan) is the complete opposite of what he presumed her to be. When the Moosa fell for her, Zohra was clad in an Abaya, covered from head to toe – she even had gloves on which was very attractive to Moosa, however he later finds out she's very different in real life from when he first saw her bringing a surprise twist in the serial!
Are you also following Raqs e Bismil? Let's us know what your thoughts are on the latest episode by leaving a comment on our Instagram page!