All work and no play? Seems like our celebrities don't go by that notion and why should they! Everyone deserves a little bit of time off to connect with nature and… party a little bit.
We might stay in our pyjamas when we get a day off but these celebrities don't take their vacations lightly. Their 'effortless' look requires a lot of effort and God do we love it!
Here's a look at our favourite girls who kept us on out toes this year.
1) First up, we have insta queen Mawra Hocane. On her trip to Australia, this diva is personifying sunshine in this brighter than life Ali Xeeshan shirt while soaking the sun. Paired with statement earrings this look shows us how to dress up and be comfortable at the same time.
https://www.instagram.com/p/B15xnKQAL_D/
Another day, another look, we love how casual and easy this look is to create. Seen here wearing a shirt from her own fashion line-U&M Official.
https://www.instagram.com/p/B1dXaIog1Ri/
2) Next up, we have Ayesha Omar! Her trip to Greece created a lot of news but what striked us most were her fashion moments. We love a woman who can rock a straw bag. Seen here in an intricate white net attire, paired with teal earrings; Ayesha nailed this look completely!
https://www.instagram.com/p/B0DYT6njrnr/
Raising the bar with every look, this superstar is doing beachwear right.
https://www.instagram.com/p/B0BPPGvDMik/
3) If only we could look as good as Sadaf Kanwal in a spa robe while sippin on watermelon juice! For her beach retreat in Bangkok, Sadaf opted to go bare faced with cat-eye sunnies and a statement hat. Her gold blings keeps her look original and tie the look well.
https://www.instagram.com/p/B0LPmrCA36A/
For a sunny day out, Sadaf does both crisp and casual with such class, she gets a 10/10 from our side.
https://www.instagram.com/p/BxCxJRaAsg6/
4) Mansha Pasha is currently in Europe and loving Venice, she opts for a salmon pink midi skirt with a floral shirt. Looks like the city is loving her right back!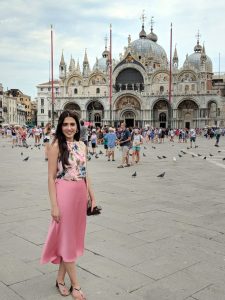 Mansha Pasha goes for neutrals for a sunny day out in Kotor, loving the hat.
https://www.instagram.com/p/B13HitgAQuE/
5) Sabeeka Imam has been giving us serious style goals with her vacation looks this summer. Now in the mountains, the model continues to wow us; distressed denim jacket with a knee length pecan colored sweater plus black chunky boots. Strike a pose girl!
https://www.instagram.com/p/B1d6XHHHW_0/
Happy girls are the prettiest, here's proof via Sabeeka's escape in the mountains.
https://www.instagram.com/p/B1bQYkBn-0i/
6) Kiran Malik displays the case for matching abstract separates while vacationing in California. Paired with Hermes slides and a sling bag, she's embracing American style like a pro.
https://www.instagram.com/p/BzokfORBAfR/
Anybody can rock stripes, but rocking it like Kiran is a task in itself.
https://www.instagram.com/p/ByDCak5hPzI/
7) We could learn a few tips and tricks from Eman Suleman on how to style a scarf. What we really love is her ability to accessorize so well. Layered chokers and a chunky belt, what's not to love there?
https://www.instagram.com/p/ByvVg9DHEso/
Statement earrings: Check! Basic tee: Check!
https://www.instagram.com/p/By0LryYHcqq/
8) Sweet and simple but a dash of sass! Saboor Aly looks like she came right out of a chick flick! Loving the pinks, especially the silk scarf as a hair accessory.
https://www.instagram.com/p/B1BOr2sAFzV/
You got Skinny jeans and a tank top? Find a wall with graffiti and you're good to go!
https://www.instagram.com/p/B1RpMZrgV6L/
9) Saba Qamar Zaman shows us how to ace a casual monochromatic look. Sneakers and a backpack, easy to wear but chic clothes, take some cues girls.
https://www.instagram.com/p/BumPg3AhZZ5/
Going for an all black look? Pair it with coloured mules for that pop of colour.
https://www.instagram.com/p/Burf9TJB1hm/
10) Last but not the least Sajal Aly all layered up in Canada, in her over-sized denim jacket, yellow tank top and distressed jeans is all things right and bright but extra brownie points for that beanie. Adorbs!
https://www.instagram.com/p/BwUeSqRF9HA/
Looks like Sajal is into head gears, we are too now, thanks to her!
https://www.instagram.com/p/BxC083yF38b/
Love all these leading ladies and their fashion sense. Which one is your favorite?