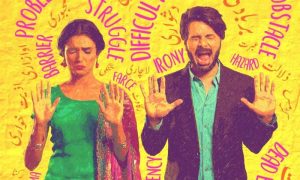 The full length trailer of 7 Din Mohabbat In starlet. Amna Ilya's latest project 'Ready Steady No' was released yesterday and by the looks of it, the upcoming film is seemingly a roller-coaster of wit and humour – the perfect mix for a blockbuster film! The model-turned-actress is seen starring opposite Faisal Saif who will be making his debut in the film industry.
The trailer shows the two actors as a couple which desperately wants to get married despite the hurdles and unfortunate circumstances. Ready Steady No's plot revolves around the duo's roller coaster like journey to the magnificent doors of marriage.
Watch the upcoming film's full trailer below:
Reportedly the film Ready Steady No is scheduled to release on 19th July, 2019 and also features actors: Nargis Rasheed, Salman Shahid, Imsail Tara, Zain Afzal and Marhoom Ahmed Bilal in other roles!
Amna Ilyas took to Instagram to share a BTS photograph from the sets of Ready Steady No captioned "I think I wasn't really listening" clad in a traditional green attire, with the script in her hands, looking up!
Are you excited and looking forward to the film's release? Let us know by dropping us a comment on our Instagram page!