Top Three Tried And Tested Sandwiches In Lahore
Ever since 2014, when I decided that I wanted to lose weight, I had to ditch the burgers and pizzas. Even though one could say that sandwiches are also somewhat unhealthy but in my opinion they're a healthier substitute. A weekly visit to your favourite café won't hurt as much as a Dominos whacky Wednesday deal would. Therefore over the last 5 years or so I managed to become somewhat of a sandwich expert, also coming back to the first point(I've lost over 35kgs ever since).  Without further delay here's my list of the top three sandwiches(in no particular order) of Lahore:
Open Faced Steak Sandwich by The Pantry
On one of my relative's suggestion I decided to give the steak sandwich from Pantry a try. Something that all my close friends or family know or should know is that there's nothing I'd rather have than a perfectly cooked steak sandwich on my cheat day. This is one dish( or type of sandwich) that I've tried from almost every other restaurant in Lahore and around the world.  As far as Pantry's version is concerned, the beef was thinly sliced and perfectly seasoned, secondly, the tangy sauces delightfully complemented the soft homemade bread, A word that I'd use to describe this experience would be (HEAVENLY).  I absolutely loved the fact that they used the right amount of caramelised onions, however what I ended up removing from the sandwich were the tomatoes. One question: Why ruin a perfectly created Steak sandwich with tomatoes? I apologize to all tomato lovers in advance but trust me they weren't needed at all.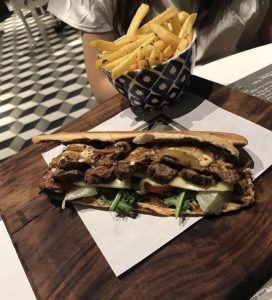 Image Credits: The Pantry by Polo Lounge/ facebook
Rina's Classic Club Sandwich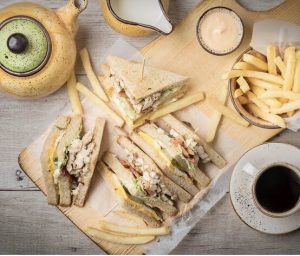 Image Credits: Rina's Kitchnette/Facebook Images
The classic club sandwich by Rina's is not only my favourite but my mother's as well. This sandwich is one of the very few food items that I dream about whenever I'm at university in Canada. Moreover this is the first non-desi item I eat as soon as I land in Lahore.  I don't know what it is about this sandwich that makes it so special, but what I can tell you all is that as soon as I have my first bite it feels like I'm a five year old kid in Disneyland.  The perfectly grilled chicken topped with pickles, cheese and Rina's secret sauce, nestled between layers of whole-wheat bread make for this masterpiece.
Philly Steak Sandwich By Cosa Nostra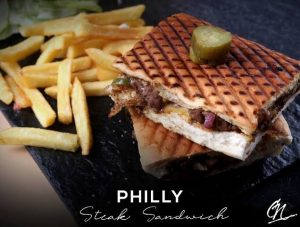 Image Credits: Cosa Nostra/ Facebook Images
The Philly Steak Sandwich at Cosa Nostra is nothing short of unconventional creativity at its best. Even though it looks more like a panini and isn't the same as a traditional steak sandwich, its uniqueness makes it special. I'm an avid Cosa Nostra visitor, to the extent that some of my friends think that I'm obsessed.  Another unique fact about this sandwich is that it's available in brown bread as well, something I don't find in most of the Lahori restaurants.  The sweet caramelised onions, succulent beef, stringy cheese and a tangy mustard sauce add up into what I think is one of Lahore's specialities. Two words: artistic excellence!