Every Wedding Season in Pakistan is louder and crazier than the last one. However, finding up beat Pakistani Songs can be a task in itself. Not any more fellas!! The Pakistani Film Industry with it's amazing music and songs has really helped us in our efforts to compile for you a list of trending Pakistani Songs that are going to get you in the groove at your Mehndi.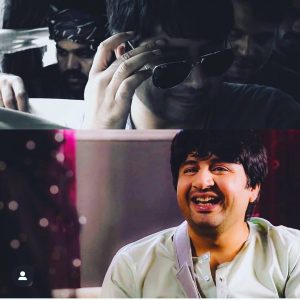 IK Pal from Parey Hut Love
This one is for the whole gang! Get all your friends and family to dance on this one. The beat is rich and steady but not too racy for anyone to follow.

Billo by Abrar Ul Haq Coke Studio 12
Everybody's already listening to it on repeat. With the right amount of rap and sass, this one's going to be the life of the party!
https://www.youtube.com/watch?v=eBxrpNO3EV0

Item Number from Teefa in Trouble
This track can be made super special by reenactment. It's fun and peppy with a great chorus to create the right vibe.


Chhalawa from Chhalawa
This one has been playing at award shows and weddings already, plus the video of the song also has some great moves. Hurry up and practice!

Haye Dil Bechara from Parey Hut Love
This one's going to be the wedding anthem of the year! The beat makes you get up and dance but surprisingly it's not too fast. Jimmy Khan really does a good job with this one!
https://www.youtube.com/watch?v=8g9ay6wuz34
Dharak Bharak from Superstar
This one's for the boys! Imagine getting all your guy friends doing a well-choreographed dance on this track.

Billo Hai from Parchi
This energetic number is going to give you some real Punjabi vibes! You don't even need to prepare anything with this one because everyone's going to jump on the dance floor anyways.

Balma Bhagora from Parey Hut Love
It's pretty evident that Parey Hut Love killed it with their tracks in the Movie. A movie that revolves around weddings is bound to do that but they really outdid themselves. Get your thumkas ready with this one.
https://www.youtube.com/watch?v=nOsaQ1741_E
Noori from Superstar 
Imagine your gal pals dancing at your wedding in their glistening Lehnga-Cholis on this one. It's fun, has the right amount of beat and the video has some great moves to seek inspiration from.

Lar Gaiyan from Dobara Phir Se
This one's for the Bride and Groom, it's a romantic take on an upbeat tune that makes it ideal for the couple.
https://www.youtube.com/watch?v=evTGIU19lEY
Which one of the aforementioned Pakistani Songs is going to make it to your Mehndi? Let us know!