Top Four Pakistani  Dramas With A Strong Female Lead In 2019
There's many reasons to believe that women should be represented as strong female leads in the Pakistani Entertainment Industry. With television being one of the strongest mediums of communication and entertainment in Pakistan, what better platform can one get to do so? According to aurora Pakistan, approximately 55 percent of the Pakistani population watch local entertainment channels daily. Imagine, 113 million people watching tv in Pakistan every single day, amazing isn't it? With dramas such as Cheekh, Aangan and many more having strong female leads, the industry came up with some interesting content this year. Therefore without any further delay here's our list of the top four Pakistani dramas with strong female leads (2019):
1. Cheekh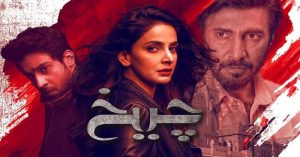 Image Credits: ARY Digital/ Facebook
Cheekh has to be undoubtedly one of the most thrilling dramas of this year.  You think of Hindi Medium and Baaghi as Saba Qamar's greatest ever performances, then she comes up with Cheekh in 2019 , absolutely brilliant.  A crime-drama produced by Fahad Mustafa and Big Bang Entertainment, Cheekh airs on ARY Digital from 8-9pm on Saturday every week. Talk about a strong female lead? Saba Qamar's character in the drama is resilient and has a really strong personality. Great job to the whole team for coming up with this gem of a piece.
Video Credits: ARY Digital/ Youtube
2. Aangan

Image Credits: Hum Tv( Momina Duraid Productions)
Even though Aangan was polarized in terms of public appreciation, Sajal Aly was widely recognized for her performance as Chammi.  Produced by Momina Duraid Productions, Aangan is a period drama that is set in the pre partition era. In terms of strong female leads Aangan doesn't have one but three strong female characters played by Mawra Hocane, Sajal Aly and Sonya Hussayn.  However Sajal Aly stole the limelight and was the boldest out of them all, people tried to replicate her performace on social media platforms and apps such as tik tok. Speaks volumes of her performance doesn't it?
Video Credits: Hum Tv/ Youtube
Hassad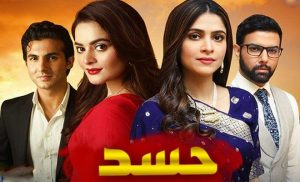 Image Credits: ARY Digital
Hassad is a family drama produced by the multi-talented Fahad Mustafa and Big Bang Entertainment. The drama airs on ARY digital and stars an ensemble cast consisting of Minal Khan, Arij Fatyma, Shahroz Sabzwari and Noor Hassan. Speaking of a strong female lead, Minal Khan plays one of the strongest characters that she's ever played in her career. Power-packed, emotionally driven and full of character are a few of the adjectives we can use to describe Minal Khan's performance as Naintara who has to fight with societal pressures.
Video Credits: ARY Digital/ Youtube
Balaa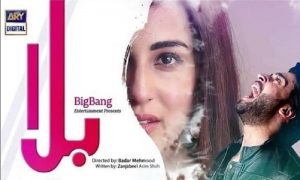 Image Credits: ARY Digital
Ushna Shah in Balaa was undoubtedly one of our favourite negative characters of the year. Balaa is a thriller that stars Bilal Abbas and Ushna Shah in lead roles, the drama aired on ARY Digital. Nigaar played by Ushna Shah is a selfish, spoilt and cruel girl who is meant to feel like she's the queen of the universe by her father. The fact that Ushna was impaired from her leg by birth she turns her disability into her strength which is apllaudable. Kudos to Ushna for playing this character with such ease and strength! This role required a lot of courage and we definitely feel Ushna did justice to it.
Video Credits: ARY Digital/ Youtube
Rounding off the year so far we feel like this year was really good in terms of strong female characters. It's about time that in 2019 the women are shown as independent and strong. Roles such as Saba Qamar's in Cheekh or Sajal Aly's in Aangan can be really inspiring for the girls out there. Which one was your favourite performance of them all? Feel free to let us know.