Share this
Top Five Vacation Worthy Resorts For Summer 2019.
The smouldering heat of Lahore, or should I say Pakistan in general calls for a relaxing resort vacation. Whether it's the serenity of the beach at night or the multiple activities at offer during the day, a resort vacation is bound to be a pleasantly unforgettable experience for all. Being a student in rain stricken Vancouver, I miss the sun 24/7, but what I can't seem to miss, even if I try my level best, is the humidity that Lahore has in store for us during the summer. Here's my list of the top five vacation worthy resorts(in no particular order) for Summer 2019:
Banyan Tree Phuket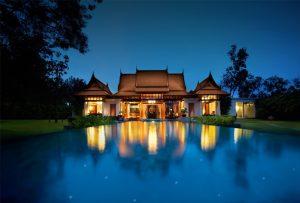 Image Credits: Agoda
Whenever I think of the phrase "beach vacation" Thailand definitely pops up as one of the first few options. Phuket, a mountainous island with multiple rainforests has one of Thailand's most popular beaches and resorts. Banyan Tree being one of them, a five-star resort located in the Thalang District of Phuket is a high end property that offers posh villas with private pools, guaranteeing a memorable trip. Personally speaking, I would love to visit this place, also it offers an experience one dreams of. Even though the room rates are a bit on the pricier side, it will definitely be worth the extra penny. In this case you should believe that a picture is worth a thousand words because Banyan tree looks unbelievably stunning.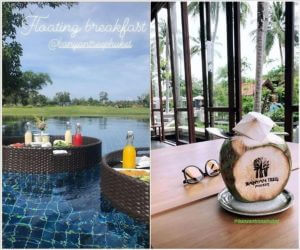 Image source: Shahid Kapoor/ Instagram
Mandarin Oriental, Lake Como Italy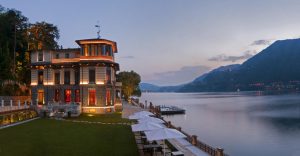 Image Credits: Mandarin Oriental official website
Located at the heart of Lake Como Italy, Mandarin Oriental is simply "spellbinding." When it comes to this location, it portrays nature at its finest. A luxurious palace like accommodation, Mandarin Oriental offers five star lakefront splendour on the sunlit shores of Lake Como. Paired with its serene setting, nestled between a luxuriant botanical park and lake, the resort represents an artistic blend of Italian style, oriental charm and natural beauty(of course).  There's two fun facts about this place, one for the Star Wars community, the other for the Bollywood fans.  Firstly the area nearby known as Villa del Balbianello is famous for featuring in a number of films including Star Wars: Episode II Attack of the Clones. Secondly this is also the place where Bollywood's leading actors Deepika Padukone and Ranveer Singh tied the knot.
Would love to visit this place, let's not forget how beautiful our Instagram feeds would look as well.
Constance Moofushi Maldives

Image Credits: Kuoni
When I think of Maldives, the first thing that comes to mind is clear waters and white sand beaches. A place that comes close to the widely used phrase " heaven on earth." Maldives has always been on my bucket-list of places that I want to travel to, therefore I did some research for the future. After surfing through a number of options, the one that stood out for me was the Constance Moofushi Resort. The Constance Moofushi resort is an upscale all-inclusive resort located on a private Island in the Indian Ocean and is only accessible by seaplane or boat(how exciting).  It features private beach villas with access to pools, great restaurants and services such as fitness centres and Sauna's as well.  Honestly I don't know what we're waiting for, lets pack our bags and catch the first plane out of town?
4. Samabe Bali Suites & Villas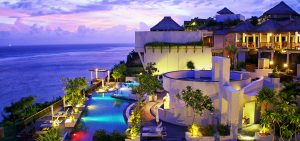 Image credits: Samabe/facebook
After visiting one of the most beautiful places on planet earth(Bali) the only regret I have is that I didn't stay at the Samabe Suites and Villas. The Suites and Villas are situated in Nusa Dua Bali. However what excites me the most is the fact that this place is an ultra-luxurious beachfront resort located atop a cliff(yes a cliff) and has balconies offering scenic ocean views. Something that will also excite the kids is that Samabe Bali has Villas with private infinity pools, a kid's club and tons of daily activities on site. The  perfect place for a family vacation.
The Cove at Atlantis, Paradise Island Bahamas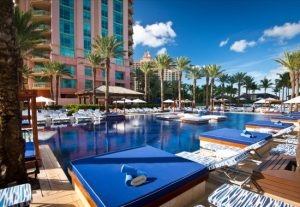 Image Credits: Trip Advisor
As the name of the Island suggests, it would be nothing short of or the closest thing to paradise. The Bahamas are located in the Atlantic Ocean with 700-plus islands.  Paradise Island is the northernmost island of the Bahamas and is one of the most popular tourist destinations.  The Cove at Atlantis overlooks the Paradise Beach and is 5km away from Dolphin Encounters. They offer many packages ranging from scuba diving to fish feedings and marine exhibits. Wouldn't be wrong to term this resort as the great escape.
Share this