Share this
Top Five Pakistani Movies To Watch On Netflix
It's safe to say that the age of the digital medium has arrived, with television shows such as Game Of Thrones, Breaking Bad, The Office and many more receiving worldwide fanfare. Personally speaking, over the last year or so, I haven't spent a day in my life without watching one show or the other on Netflix. Netflix has become a house favourite, with people ranging from my parents to my ten year old little sister, everyone loves Netflix. Being a Pakistani myself I've been wondering for a while now, about our movies in general. The level of competitiveness and great content is so high now that in order to achieve worldwide recognition, Pakistani content has to be up to the mark. Some Pakistani movies though I felt were worthy of a mention, therefore without further ado here's my list of the top five Pakistani movies on Netflix:
Cake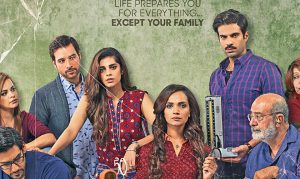 Cake/ Facebook images
Cake is a film that hits right where it hurts the most, the heart. A film full of power-packed performances, shot mostly in the beautiful outskirts of Sindh. Cake just recently dropped onto Netflix and I decided to give it a watch. The film is wonderfully written and directed by Asim Abbasi and is a story about love, loss and family. What I loved the most about the film were the stellar performances by the whole cast. Aamina Sheikh as Zareen brought an emotional depth and realness to her character burdened with responsibility and compromise. Sanam Saeed was at her career best as Zara who was the most relatable considering it's the era of millennials on their path towards achieving their dreams. Sanam delivered on every level, as a character who had to stay away from her family and the man she loved because of an unfortunate incident. A special mention to Beo Raana Zafar and Syed Muhammad Ahmed as the parents. Last but not the least, Adnan Malik as Romeo was brilliant as he showed both restraint and compromise that were required by his character in the film.
A film worth watching and most definitely worth your time, I would rate it a 4.5/5.
Dukhtar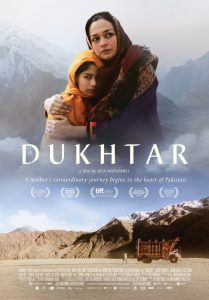 Dukhtar is a drama-thriller film directed by Afia Nathaniel and talks about important and relevant issues such as Child Marriages. The film revolves around Allah Rakhi played by the super talented Samiya Mumtaz and her ten year old daughter Zainab played by Saleha Aref.  Samiya's character was sent away as a child bride and then years later runs away in order to prevent that from happening to her daughter. The film was both socially relevant, portrayed the wonderful mountains of Gilgit-Baltistan and is full of impeccable performances by the leading ladies. The fact that the film was shown at various film festivals such as the the Toronto International Film Festival and also was Pakistan's official entry to the Oscars in 2014, speaks volumes of the movie
A movie that thoroughly affected me emotionally, an unforgettable experience, which is why I give it a 4/5.
Image Credits: Dukhtar/facebook images
3.Rangreza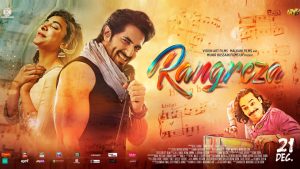 Image Credits: Ary Films
Rangreza is definitely one of the most underrated Pakistani films of 2017, at least for me. Being a student in Canada, I wasn't able to watch it in the cinema's, which is why I decided to watch it on Netflix a couple of days back. The two standout performers for me were Urwa Hocane as Reshmi and Gohar Rasheed as Waseem Wallay. The film revolves around Reshmi who belongs to a traditional Qawwal family and has been engaged to her cousin Waseem since childhood, tensions arise when she falls in love with a famous popstar Ali. The film deals with important issues such as class conflict and unity.
Bilal Ashraf was good but his portrayal of Ali Zain felt a bit too melodramatic at times. Even though the screenplay lacks realism in some scenes especially the climax, the direction by Amir Mohiuddin sails through the waves with ease. A special mention for the song "Bagiya Mein Mor" performed by Urwa Hocane and sung by the melodious Jonita Gandhi. The song was one of the most memorable songs of the film's soundtrack.
I loved how Karachi was shot in the film, therefore would rate the film as a 3.5/5.
Ho Mann Jahaan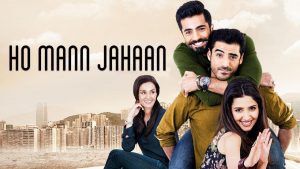 Image Credits: Ho Mann Jahaan/ Facebook
Ho Mann Jahaan is a coming of age film about friendships, family, aspirations and love. The film stars Mahira Khan, Sheheryar Munawar and Adeel Hussain in lead roles. Even though I felt that at 2hrs 49 min the film was a bit too lengthy, the storyline and performances kept it intact. The story is about a group of friends from college in their last year, and their struggle to come to terms with their parents about their relationships and their passion for music. It deals with important family relationships between parents and their kids, and the soundtrack with famous songs like Shakar Wandaan is the icing on the cake.
A good film to watch as an entertainer, a 3.5/5 for me.
5.Pinky Memsaab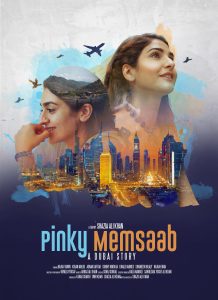 Image Credits: Imdb
Pinky Memsaab is shot mostly in the beautiful city of Dubai. It's a wonderful story that revolves mostly around two female protagonists Pinky played by Hajra Yamin and Mehr Memsaab played by Kiran Malik. Despite of the wonderful perfomances by the two leading ladies, the screenplay loses its essence and grip in the midst of showing the beauty of Dubai. The story should've stuck to its core, which dealt with how Pinky a maid from a village in Pakistan, deals with the life in an urban foreign land like Dubai. I felt as if the conflict between Mehr and her husband was a bit forced to create tension.
Overall the film was both entertaining and watchable at the same time which is why I would rate it as a 3/5.
Share this