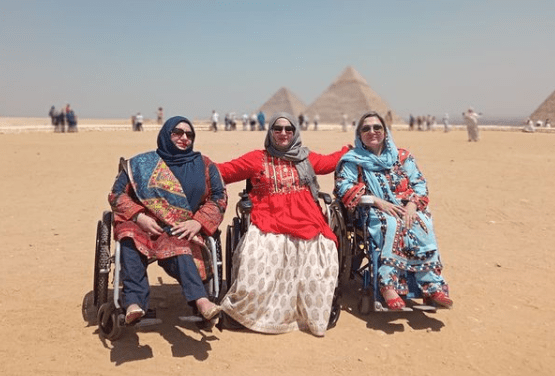 Three female friends from KPK, Baluchistan and Punjab left for an independent trip to Egypt on wheelchairs, proving to the world that women who use wheelchairs still do not have to be dependent on anyone! " Though we seem disabled but nothing can match our happiness in Independence and Freedom and making our own choices. We dont need attendants to travel the world, we just need a world thats built on inclusion and empathy", wrote Tanzila Khan, one of the female travellers on the trip.
Tanzila, who hails from Lahore writes about their trip and what made it possible, posted to her Instagram account saying "Egypt is not a wheelchair friendly country but miracles of life has made us meet wonderful people who have helped us and miracles of the mind has helped us navigate options that are suitable, safe yet adventurous."
Talking about the aspect of being unaccompanied women in a city like Cairo, which is typically not safe, Tanzila writes that standing united has definitely helped the three women immensely. "From dragging our own bags to wheeling on roads. From holding each other's wheelchairs when one is getting in and out of the car to opening doors for each other. We three have learned so much about each other during this trip", she wrote.
View this post on Instagram
Living with other women, who share her physical impairment she wrote "We are also sharing one room and it feels each day I am looking at a mirror. In my two friends I am looking at my own power and my own struggle which I had never really seen. Each morning we wake up and help each other get dressed, wear makeup. We also talk about life, love and our ambitions. We also talk about life, love and our ambitions…This trip to Cairo is definitely going to change how everyone looked at us and how we looked at ourselves. (And Ill be really shocked if there is no papparazi to welcome us back on Islamabad Airport)"
View this post on Instagram
The journey embarked upon by these three brave ladies reminds us never to forget to embrace the countless blessings each moment brings along with it, appreciate the immeasurable beauty Allah has bestowed upon us in the form of this world and to always remember that no matter how difficult or unfair it may seem, life is eternally and endlessly- beautiful. 🌈🌟🌛