It seems like Pakistani dramas are not just popular within the country but also across the border. we have seen this love before from dramas like Humsafar, Dastaan and now Mere Pass Tum Ho!
Recently popular Indian channel Sony TV aired the teaser for the drama "Kaamna" and fans couldn't help but spot the similarities between MPTH and Kaamna
The trailer reveals that the series is about a middle class family where the husband is satisfied with what he has, but the wife keeps aspiring to live a rich and luxurious life and which is creating a rift between them. Then a rich business man spots the wife when she is travelling with her husband, and decides that he wants to pursue her.
In the comment section of the video clip, people were pointing out the similarities between Kaamna and MPTH to prove that the series had copied the original one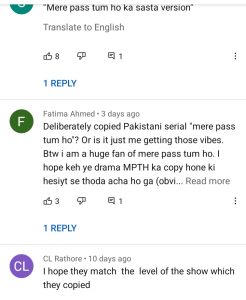 Do you agree with the comments that this series has plagiarized the original version or do you think that this is just a misunderstanding? Let us know in the comments!