We're all for that main character energy! While we'll never be over a classic powder blue-khakee combination, sometimes you have to step out of the box to make heads turn. If you want to be the most talked about person in the room this Winter Season, then your sartorial choices are key.
Before you attack us with the price of the pieces we are going to mention soon, remember that it's better to spend on one statement piece than splurging on sales from brands that woo you over with their priced discounts but lack quality and exploit their workers. Yes you heard us! We're skipping fast fashion and consciously looking at options that will pass the test of time without compromising on the beating fashionista heart inside us.
Now let the party begin.
We've seen all the popular baddies wear it and we can't deny that they do gauge attention while making a fashion statement as well. Yeah, we're talking about the inflated Loewe sunglasses that are currently Instagram's favorite pair of sunnies. The animated pair is striking and can look rather chic instead of bizarre if you tie it up with a muted monotone outfit.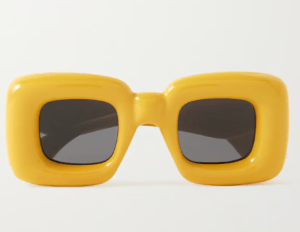 Winter essentials include tweed, velvet and silk but how do we make them stand out? The tweed option we've chosen, Alice+ Olivia- Renae cropped metallic boucle-tweed jacket, stands a class apart because of its impeccable tailoring. A well constructed outfit not only outlives various seasons but also serves as that wardrobe confidant that roots for you every season.
The Etro velvet coat shown below is one of the best pieces this Winter has seen. It's rad and sleek at the same time; a fashionista's favorite words. It's not something a run of the mill fashionista chooses, it's a sustainable option for those who care.
Furthermore, the silk over the top wide legged pants by Alemais are also a winner item that can be dressed up or down depending on your mood.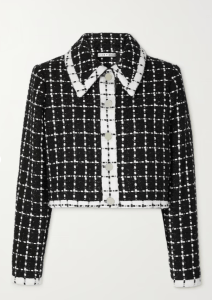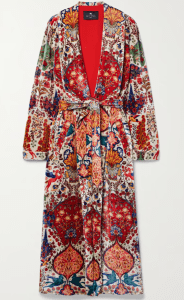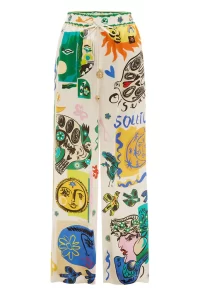 Now over to the bags. We have shortlisted season's favorite bags that can make even a rather dull look shine bright. Something that could redeem the minutes we wasted on putting those false eyelashes. (Yes, we've all been there).
First up the Bottega Veneta 'Casette' bag in Olive green and second, the Jimmy Choo-Bon Bon bag screaming Barbiecore are our 'it' items for the Winter essentials fit for a fashion Maven. Not only are these options functional but also great pick me up products that can not only lift your mood but elevate your outfit as well.