Ever since the Turkish drama series Dilris Ertugrul released, it has managed to develop a huge fanbase not just in Turkey but in Pakistan and many other countries as well. Diriliş Ertuğrul, the series timed during the 13th century is a historical fiction based on the rise of the Ottoman Empire. The series containing five seasons is based on the five different periods of Ertuğrul's life, father of Osman Bey, the founder of the Ottoman empire.  With its release in Pakistan in the early days of Ramadan, the series got its fame in the Urdu speaking countries including India. It has been watched in over 65 countries and has been translated in many different languages including Hindi, English, Urdu, and Arabic.
In the 21st century, also known as the era of memes, the more fame Dilris Ertugrul got, many people started making memes based on the drama serial. When there's a meme about you, that's when you've officially made it.
Therefore without further ado, here's our list of the best Ertugrul Memes on the Internet right now:
Some People want to go to Turkey right now because of the drama.
*After watching 2 episodes of Ertugrul*
Me: pic.twitter.com/TZZvOpV82H

— Muniba🇵🇰 (@Muneebawajid1) May 6, 2020
Whereas some people seem to have taken major costume inspiration from their favourite characters.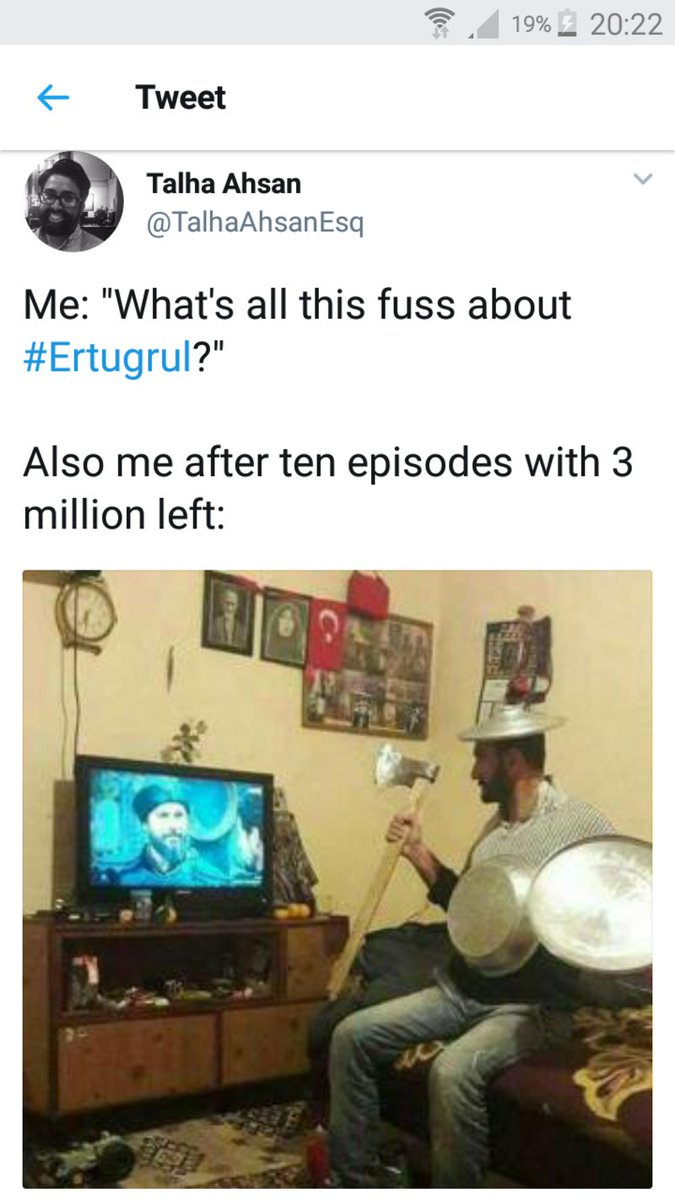 My friends after watch first episode of #Ertugral pic.twitter.com/VJ6xzqof8s

— ABDULLAH KHILJI💕✨🥀 (@khiljiAbdullahk) April 30, 2020
Some even compared it to the infamous Pakistani cricketer Umar Akmal.
https://twitter.com/BilkulSahiKaha/status/1262348393629855746?s=20
The level of creativity in this one is MAJOR.
When u order Ertugral from Daraz😂 #Ertugral pic.twitter.com/noBvZXv7GW

— Usman Maalik Khan (@mr_umk) May 11, 2020
When brothers watch Ertugrul together, they tend to take their inspiration too seriously don't they?
Me and my younger brother after watch #Ertugrul pic.twitter.com/sGTWC8zA72

— ꌗꃅꍟꀤꀘꃅ ᴀოოꍏ☈ 💔 (@Sheikh___Chilli) May 17, 2020
The Kurdoglu references had to be made. This one is a classroom classic!
Har class mn ek na ek kurdoglu zrur hota hai😂🤭. #Ertugrul #ertugrulmemes pic.twitter.com/Jnevay3kFA

— Haseeb ul Rehman Cheema (@Haseebu44759958) May 6, 2020
Imagine having your favourite Ertugrul snack while watching the show!
Turk Nahi Janty K Unho Ny #Ertugrul Drama Ks Qom K Hato Mey Dy Dia Ha😂 pic.twitter.com/qhPiNaxIEN

— ꌗꃅꍟꀤꀘꃅ ᴀოოꍏ☈ 💔 (@Sheikh___Chilli) May 9, 2020
When Ertugrul becomes a national crush and there's no denying the fact.
Someone: Yar #Ertugrul Itna B Achaa Nahi Ha Ab.
Le Paki Girls: pic.twitter.com/qnlN9qePNA

— ꌗꃅꍟꀤꀘꃅ ᴀოოꍏ☈ 💔 (@Sheikh___Chilli) May 6, 2020
Decorating your cars with you favourite show's poster has to be the best expression of fandom.
😀We Pakistanis can do anyhing for #Ertugral 😊👍 pic.twitter.com/EuPdxb9skk

— ĄmęêŕHàmžą🇵🇰💞 (@AH1PAK) May 11, 2020
Did we miss out on any of your favourite memes? Do feel free to let us know if we did.