Share this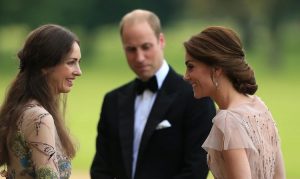 Now that Kate Middleton and Meghan Markle feud rumors have been put to rest new allegations against Prince Williams are just across the pond! The rumor is that Prince William may have become too friendly or in other words had an affair with an aristocratic neighbor while Kate was pregnant with their third child.
Now the question is that who is Rose Hanbury? Rose is a former model and to no surprise she and husband David Rocksavage are William and Kate's Middleton's neighbors and were the closest friends and confidants of the couple as they run in the same social circle.
Things turned sour when a magazine reported that Kate and Rose had a falling out and told William to have Rose 'phased out'. Nobody truly knows what Kate and rose are allegedly feuding about but this is from where rumors got extra dramatic.
The world including the royal family are shocked with news that got viral from a British Journalist Nicole Cliffe who posted a thread on twitter in which she claimed Kate being cheated on by Prince William. The news got more heated up when various publications, including Slate and Refinery also reported about the affair and the reason behind Kate and Rose feud.
The American publication In Touch reported that when William was confronted by Kate on this matter he apparently 'laughed it off saying there was nothing to it'.
When your wife and your side-piece show up at the same event… #PrinceWilliamAffair pic.twitter.com/J07vcJ7GL7

— Television's Black Friend (@TVsBlackFriend) April 25, 2019
Daily Mail claims that Kate and Rose are still good friends and are baffled by the rumours. As nothing has been officially said from the Royals on this matter the publication reported that the Royals had considered taking a legal action but decided against it.
#princewilliamaffair I'm in wales, I just googled prince William cheating, nothing in the uk came up, definitely a news black out here! Absolutely disgusting to cover this up! I'm not a royalists, but I did like him if this is true he's a piece of shit! Like father like son 😲

— Melanie baker (@melwelshbaker) April 24, 2019
As the palace has not responded and royal critics have rubbished the news it left many on the social media to speculate what actually the truth is. Some brought up what Charles did to Diana and some stated that maybe the upcoming royal baby would be used to draw attention from this.
Wait, let me get this right. Apparently Prince William had an affair with Kate Middleton's best friend but all of this has been shushed up in the UK media houses because of his human rights?? #PrinceWilliamAffair pic.twitter.com/afQJgv1gbQ

— Smriti Sant (@temporarysant) April 25, 2019
Share this