Readers brace yourselves for some much awaited and welcome change, as the resistance against the toxic male hero is here! Audiences have had enough of narcissistic, psychopathic and obsessive male protagonists and are now beginning to demand an end to this ' 'toxic hero culture' in the Pakistani drama industry!
Recently, bestseller novelist and writer #NemrahAhmed took to social media to post about the toxic trend of Pakistani dramas romanticizing this 'toxic hero culture'. ⚠️
"But in real life what do these toxic abusive partners do? They become Zahir Jaffar. They pursue Noor Muqaddams and they don't let go of them. On one side we are fighting against Zahir Jaffar's and on the other side we are glorifying these narcissistic men?," she very rightly wrote.
View this post on Instagram
Directly calling out Danish Taimoor for starring in both 'Deewangi' and 'Ishq Hai', Feroze Khan for going to another extreme for ONLY playing toxic male leads, and the main hero of drama 'Ruposh' for playing an abusive and obsessive male, who is yet again the protagonist of the drama, she wrote 'Do not misguide a whole generation that consumes these dramas on a daily basis'. 👏🏿
Social media users seconded the writer on her demand to end 'toxic hero culture' in Pakistani dramas.
Many pointed out how this same glorification of mentally sick, abusive and obsessive men is what goes on to create monsters like Zahir Jaffer!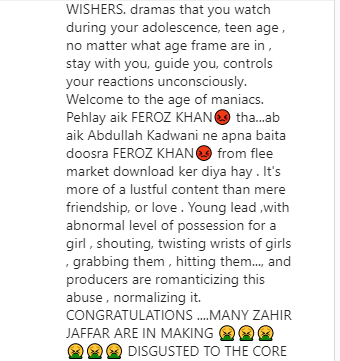 Meanwhile others seconded Nemrah on the matter, pointing how dramas could also depict self-made, sensitive and caring male characters for a change!