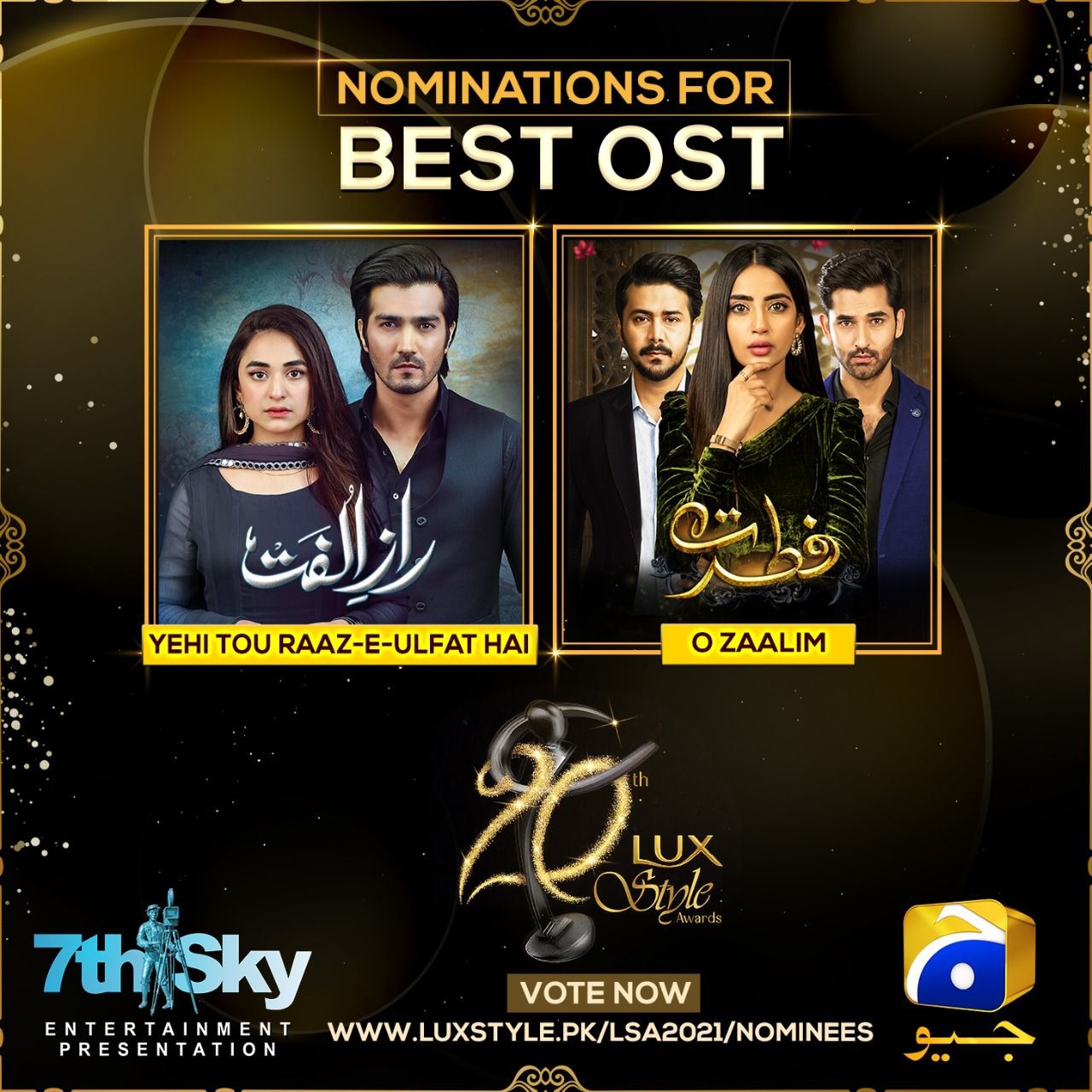 This year was not only great when it came to good narratives being told by our dramas but also when it came to their respective OSTs. These days a good soundtrack is one of the most important aspects of any project, and 7th Sky Entertainment never fails to impress us. Their beautiful yet emotional OSTs grip the audiences and remain in their playlists even long after the show is over. The YouTube views and likes are a testament to the success and love these soundtracks have received overtime from fans. Their super famous OST's for Raaz-e-Ulfat and Fitrat have been nominated as Best OST at the 20th Lux Style Awards.
Raaz-e-Ulfat's OST 'Yahi Tou Raaz-e-Ulfat Hai' was a huge fan-favorite with over 53 million+ views on YouTube. The OST is sung by Shani Arshad and Aima Baig with a sweet, melodious tune plus thoughtful lyrics. The heart-wrenching track is about love and pining. This slow yet powerful track hits you right in the feels and tugs at your heartstrings! Yahi tou raaz-e-ulfat has a perfect depiction of the narrative of the drama itself, giving the audience all the right feels and setting the mood for them to enjoy it throughout. With Yumna Ziadi and Shehzad Sheikh in lead roles, the OST really garnered a lot of attention and added to the on-screen chemistry between the duo. Even though the show is now over, fans still love the sound track and can't help but jam to the pleasing OST.
Fitrat's OST O Zaalim sung by Sahir Ali Bagga and Aima Baig is exactly how a contemporary OST is done right! The powerful and dynamic duo of Sahir Ali Bagga and Aima Baig has time and again proven its prowess and have never once left us disappointed. It's not a surprise that the OST proved to be such a huge hit amongst fans. Let's not forget the scintillating chemistry between the leads Saboor Aly and Ali Abbas pushed the feeling of the OST to even greater heights.
7th Sky Entertainment has swept the LSA nominations like a true trailblazer. The highly esteemed production house, under the leadership of Abdullah Kadwani and Asad Qureshi, has received massive recognition at the 20th Lux Style Awards for their projects aired on Geo Entertainment, and bagged 16 nominations under various television categories. Fans are elated to see all their favorites nominated during this award season and with the two super-hit OSTs nominated, some are once again reminded of the soundtracks they loved so much. Fingers crossed, may the best soundtrack win!