'Fashion, Art, photography or a montage of it all, Tapu javeri talks about his coherent role in pioneering fashion photography in the 90s

'The dark room' with tainted windows of Vermeer blue reflecting from the exquisite veranda outside, a surreal collection of paintings hanging on every wall you laid eyes on, Janis Joplin playing on the television, The maestro;Tapu Javeri  himself, immersed in books, music and art, rummaging through a lifelong collection of impeccable photographs encapsulated in the celebration of being unapologetically human. It took an afternoon of profound understanding to fully understand how Tapu Javeri doesn't fit into the conventional description of being solely the man behind a camera, he's an artist and a mentor, with a tasteful collection in music, and he has given photography a whole new definition and has created milestones and directions in fashion that are being followed to date.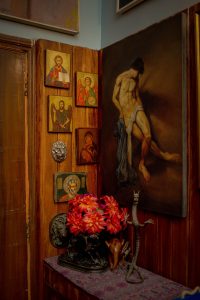 It's breathtaking to be around so much art and these endless collections of your career in photography, could you brief us a little about photography as a means of expression and what it's like to be awarded a place in Nikons top 32 photographers?
It feels great to be awarded and to be given that title by some of my contemporaries in the field, but my real achievements lie in capturing images of legendary icons of Pakistan that I have collected over the years, my archives and my books. To have photographed the likes of Madam Noor Jahan and Nusrat Fateh Ali Khan has been a real accomplishment. I count my students and my audience as an achievement as well because there are so many aspiring photographers who seek to learn from my experience and advice and it's overwhelming. Almost 70 percent of my followers on Instagram are photographers and it's an acquisition to have an influence on teaching and shaping young minds. Even as a professor at Indus valley my style of teaching has been to allow the students to have a dialogue with their subjects, to anticipate the right moment, even if they have to place themselves in the setting waiting to capture it. The trick is to instigate a reaction out of your subject, to engage them in to responding and this way you have created an effortless and captivating interaction between the camera and them. Everyone likes to be photographed. It's all about how you as a photographer look at them and what aspect of them you want to bring forth. Photography has an enchanting power on man. That's why I personally enjoy portrait photography the most.
I once did a project with Akif Mehmood because we've been working together for a really long time, and we have very distinctive ways of photographing, we wanted to show how the same subject can be viewed differently. We compiled It in a book called Do Rukh, for obvious reasons. Therefore I believe an image is a reflection of the photographer and the muse working together to create something that can be memorable.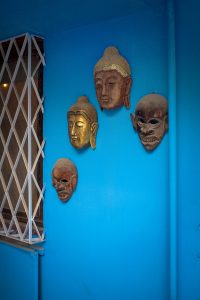 How does one fit in Photography, Fashion, Music and Jewelry making into one person, tell us a little about how it originated?
I believe my love for art doesn't have a day of inception that I could really recall; it has always been with me, long before I even realized my calling. I mean I spend all my money buying art, look around! But I recall my father presenting me with a small Lomo camera at the age of nine, and that soon became by third eye. I saw the world from behind the camera's lens and it changed everything. The best thing about my newly found interest was that I could create interesting frames and freeze them in time.  My camera soon became my companion, exploring the streets of Karachi. The chaotic and versatile city has so much to offer full of contradictions and color and thus the best place for a photographer to create images. The city has a wealth of history and architecture that most people ignore, yet if you look carefully, you will be amazed by its hidden gems. It is a photographer's job to look at everything with a discerning eye and to archive what he sees.  I've had the privileged to experience some of the best stimuli's put out by nature and the inhabitants of this buzzing city, one such incident was when a truck had fallen over and wheat was pouring out of it onto the road. I thought it would be a good idea to find a signboard indicating where the accident had taken place. Digging through the wheat, I salvaged a fallen board, which said "drive carefully." This was an everyday activity,  I would walk to my father's shop every day after school taking new routes through Saddar taking photographs of my surroundings. Not much later, I had this work printed in the Dawn newspaper, I happened to show it to a friend who asked me to show the whole series.  This encouraged me to photograph even more. Since then, I have never looked back, taking my camera everywhere.
Fashion however took its toll on me when I was 16. Through Fifi Haroon I was introduced to the world of fashion and soon I became a photo editor of the Teenager magazine.  A few years later, in 1990s when fashion had a noticeable presence in Pakistan, I embraced the challenge to make fashion art. Later opportunities kept opening up from the world of fashion and I became the identity editor of the groundbreaking magazine Xtra. I have since cut down my fashion work and am now focused on my photo art.
Music has always been a passion of mine and when I was offered a show in the newly created City FM89, I jumped at the opportunity and used those two hours as music therapy. As for jewelry designing, that is something that's in my blood. I come from a family of jewelers that can date their origin back some 300 years. Now I run my father's shop, Hassan Ali Muhammad Javeri Jewelers, designing exclusive jewelry for discerning clients.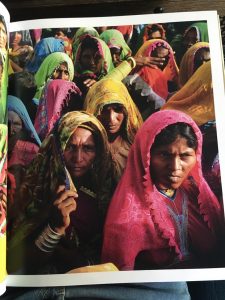 Just like everything else, photography has also landed on the commercial edge, but you were amongst the ones who pioneered a juxtaposition of fashion and art creating some of the most iconic fashion shoots of all time, can you put a finger on what has changed?
In the 1980s, I was photo editor of Teenager magazine and in the '90s of Xtra magazine. The goal in both was to push the edge of fashion photography and create art. I don't feel that is the goal of any magazine now. Priorities have changed and now finance dictates the outcome of a shoot. That wasn't the case when fashion began in this country. Back in the days, creativity wasn't an accessory but the primal drive behind a shoot.  There was this shoot I did for Xtra magazine; we had Amna Haq as the model and Amar Bilal for the wardrobe. We created a submarine with a chair and a window and we submerged it into a pool. I took photographs of Amna looking like a goddess, underwater. It was quite an experience.The results were beautiful; we had exquisite images of Amna under water looking like a Goddess.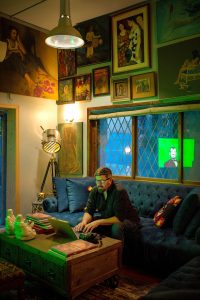 You showcased a digitally printed collection was that a challenge as well or a hidden passion
I have always enjoyed pushing boundaries of what photographs can do and as the world changes around us the utility and essence of the final product changes aswell.  I believe anyone can design and I don't say in a demeaning way but I believe if you have a keen eye and a need to learn, with collaborative efforts you can achieve different things. The Tapulicious outfits came about as another way of pushing the limits of photography. With new printing technology available, photographs are now not limited to being displayed on magazines and walls. There are now unlimited venues available. With that in mind, I created Tapulicious. It was collaboration between me and my designer friends. I've been blessed with some of the best friends ever. I would give them the printed cloth, a brief and let them be as creative as they liked. My guide to them was that these clothes were not for sale, so go crazy. Tapulicious was so successful that I was invited to Paris to show my Wardha Saleem collaborative collection there. It was received very well, and this was a time when digital printing didn't exist around here.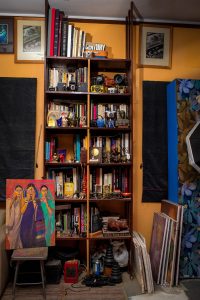 What is the importance of music in your life, what is your favorite genre?
I have always loved music, although I cannot play a single instrument, yet I have a keen ear for melody. As a child, I would collect albums and make mixed tapes for all my friends. When fashion shows came about, I was the person that used to select music for the shows. For Maheen Khan's first show, which was divided into decades, I remember making an amazing selection of music from the '20s, '30s, '40s etc. To this day, people remember that show for the clothes and the music. Calling my show 'The Darkroom' is obvious, but I guess a new generation would have to Google that. I'm a photographer and that used to be a place to develop images before digital cameras and it's also the way I hear my music. I play eclectic music that matches my mood. Luckily, it also works for my listeners. I don't really have a favorite artist. I instead like a large array of music and genres. Jazz; however is what I listen to when I'm alone.