The Best And Worst Dressed At LSA 2019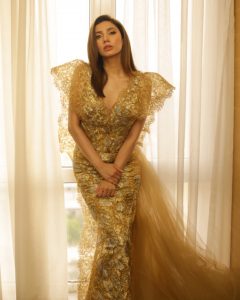 Image Credits: Shahbaz Shazi
The Lux Style Awards this year were nothing short of full on entertainment and surprises. Ranging from Yasir Hussain's proposal to Iqra Aziz, to the multiple on stage performances by stars such as Saba Qamar and Maya Ali, this event had it all. Controversies aside about the fact that certain people deserved or didn't deserve particular awards, they sure did make bold and some beautiful sartorial choices. It wouldn't be wrong to call this Pakistan's very own Cannes Film Festival, (only because of the variety of outfits we got to see). Keeping in mind that people can have different opinions on the same topic, here's our list of the best and worst dressed(in no particular order) from the star studded evening:
Best:
Saba Qamar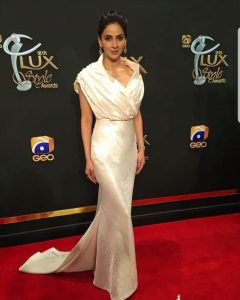 Image Credits: Lux Style Pk/ Instagram
Not many would disagree about the fact that Saba Qamar is one of the most talented actresses in Pakistan. Whether it was that award worthy performance in Hindi Medium or the emotionally powerful performance as Kanwal Baloch in Baaghi, Saba has shown immense prowess in the acting department. As far as her fashion choices are concerned, I really liked what she wore at Lux Style Awards this year. A stunning floor length ivory gown by Zaheer Abbas paired with minimalistic jewelry rounded off Saba's look. A definite 10/10 for me, Good job Saba and of course to the stylist as well.
Mawra Hocane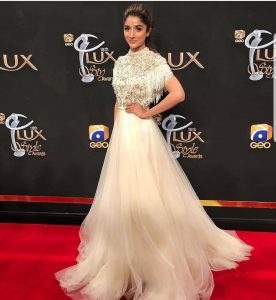 Image Credits: Lux Style Pk/ Instagram
Mawra Hocane looked right out of a fairytale in her floor length white gown by Manish Malhotra. What I really liked about her look was that it wasn't overdone at all as Mawra and her stylist let the gown do all the talking. Mawra is someone who's been making waves not just in Pakistan but across the border in India as well for her films and dramas. In my opinion if she keeps on making fashion choices as good as this one, it won't be long until she becomes a fashion icon.
Mahira Khan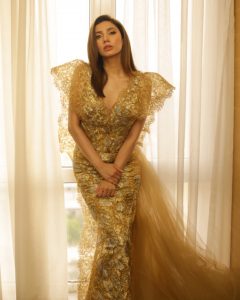 Image Credits: Shahbaz Shazi
The Queen of hearts Mahira Khan was the epitome of elegance, grace and pure grandeur at the red carpet of the Lux Style Awards. The Zaalima girl wore a lace finished tulle gold embellished gown by Dubai based designer Maison Yeya, and boy did she look amazing. What a show stealer!
Worst:
Momina Mustehsan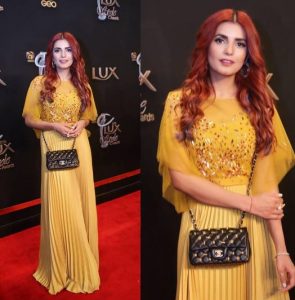 Image Credits: : Lux Style Pk/ Instagram
As much as I love Momina Mustehsan as a performer, her choice of clothes and on top that, the Chanel bag failed to make an impression at this year's Lux Style Awards. As the name suggests, the awards should have been about 'style' , but in this case they weren't. The way her hair was styled didn't go well with the colour she chose for her dress. Lets hope she ups her game for next year's event.
Iqra Aziz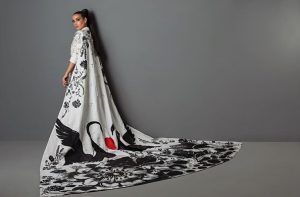 Image Credits: Shahbaz Shazi/ Instagram
Even though the evening was somewhat of a fairytale for Iqra Aziz, winning two awards and getting engaged( can you imagine), her dress was a bit too much for the eyes to fathom. It seems as if Ali Xeeshan tried too hard and ended up making a mess of it. The heart at the back of her dress nestled between the two swans is simply unnecessary. It seems as if it was made for Iqra's big day but fashionably it doesn't make any sense. And to top it off, the high rise pony tail adds nothing special to the look as a whole. Very disappointing look!
Ushna Shah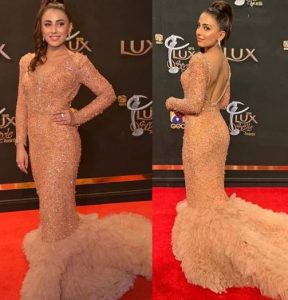 Image Credits: Lux Style Pk/ Instagram
Ushna Shah's Kim Kardasian-esque dress was one of the most disappointing looks of the evening for me. I admire her as an actor and it would be wrong to not acknowledge her in that field but this choice of outfit just doesn't feel right. The actress wore a dress by Kosovo based designer who goes by the name of Albina Dyla. The frills at the bottom completely kill the look for me. Was expecting better from Ushna!