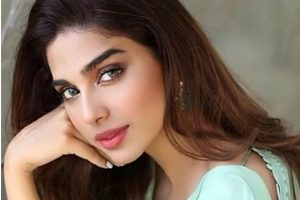 Sonya Hussyn made an appearance at the show Jashn-e-cricket which is hosted by Shahzad Iqbal and is being aired on Geo News. The show revolves around cricket and has two cricketers on board as well for some interesting discussion about the on-going PSL matches in Dubai.
The actress was asked to share her opinion on some of the politicians and when Prime Minister Imran Khan's picture came up she said, "I will give Imran Khan ten out of ten marks regardless of what he says." She further added that whatever he says or does he has very clean and pure intentions which is why she has always praised him. She also praised PML-N President Shehbaz Sharif and said that he has transformed Lahore and it is changing day by day and hopes if Karachi can also be transformed like Lahore.
When Dr. Firdous Ashiq Awan's picture came and the host asked about her views on the incident that took place between Dr. Firdous and PPP MNA Qadir Khan Mandokhail, she said that if he was misbehaving with her then he deserved it. She further added that when you appear on Tv channels or on any social media platform you should  keep your personal views aside and it is your responsibility to behave and respect everyone around.
Relating to this incident she gave an example of writer Khalil-ur-Rehman saying that he should also be very careful with his comments and should not demean and defame women when he is on any Tv channel or on any social media platform.
Here is a link of the interview:
Let us know in the comments section of our Instagram page (Niche Lifestyle) and tell us about your views on this interview as we think that Sonya has a valid point and we completely agree with her.